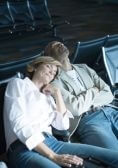 Stuck at an airport overnight and desperately tired? Try this website for tips on where to catch some zzzz's.
The trouble with sleeping in airports
A lot of airports have installed seating that you can't sleep in. Too short seat rows, arm rests, deep bucketed seats... all very un-friendly to a tired budget traveller. Airports also tend to be brightly lit and noisy, even at 3 am.
Finding a perfect sleeping spot
The Sleeping in Airports website has tips about where to sleep in airports all over the world. Their tips include the specific location/s, ratings of their comfort, and what kind of disturbances you're likely to encounter! Apparently, in London's Heathrow Airport you're likely to be run into by a carpet cleaning machine!
Advertisements:



The best airports to sleep in are (unsurprisingly) Singapore and Hong Kong. Just as obviously, Moscow and New York's JFK make the Poopy Airport Award winners' list.
So, before your next overnight connection, make sure to check this site and get some hard-won shut-eye.
You should follow me on twitter here.