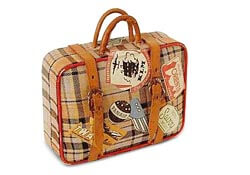 Yes, you can fit everything for a 1 week trip into a single carry-on suitcase. It's not even difficult. Just follow this packing list and ideas for a comfortable journey. And... with no bags to check, you're spending less time in the airport too!
This packing list will serve you well for a 1 week casual business conference during summer. Here's what goes in a carry-on bag:
Shoes: 1 pair running shoes (wear these on the aircraft) and one pair dressier shoes
2 pairs of khakis (Dockers), wear 1 pair on the plane
1 belt
1 pair of shorts
4 pairs of formal socks. Roll and stuff 2 pairs into each formal shoe
6 pairs of underwear
4 polo shirts. Bring 2 light and 2 dark pairs. The dark shirts can be worn twice if you air them out
1 pair of running shorts. Wash in the sink on the days you're not working out
3 pairs of running socks
3 t-shirts to work out and sleep in
Swimming trunks. If the hotel has a pool, you may as well use it
Foldable toiletry kit. The kind with 3 ounce liquid bottles in a separate quart sized plastic bag. Pack this on top for easy access during security checks
Mini Maglite flashlight
That's it, and it all fits in a carry-on suitcase.
Advertisements:



Then you'll also have things to bring in your laptop or messenger bag, which is your second carry-on and slips under the airplane seat in front of you.
Laptop and power supply. The laptop fits in a neoprene sleeve
MP3 player plus charger and cell phone charger
Sunglasses
Some snacks
Reading material
Guidebook
Some notes on this packing list
Winter travel
You'll need coats, gloves, and scarves and they're all bulky. Makes it hard to fit in just one bag, but you can wear most of it onto the plane
Women travelers
Bring the following clothing:
3 pairs of pants (black, brown, and khaki)
1 skirt (optional)
4 tops. Again, 2 dark and 2 light ones and wear the dark ones twice
2 pairs of loafers or flats, 1 brown and 1 black
A scarf and some extra ear rings / necklaces for accessorizing
There's no reason to carry a lot of junk around just because you're a girl. It'll just make you miserable
Children
Each kid is allowed a carry-on, but their clothing doesn't take up much room. You can take advantage of this by using some of the extra space. They're also allowed a small backpack each, so you can put toys and suck things in there. That also makes them carry their own stuff, so you don't have to!
If you need to stock up on any of the products, here's where you can buy them:
| | | | |
| --- | --- | --- | --- |
| | A rugged and small all-aluminum flashlight that's easy to pack and provides a lot of light for backpackers and business travelers alike | | |
| | Pack smarter with this flat toiletry kit. At only 2 inches thick, you'll be amazed how much you can pack into it. This kit has four compartments and come with a set of travel bottles | | |
| | Search for a range of carry-on suitcases at Amazon | | |
You should follow me on twitter here.