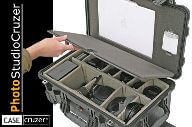 Air travel is the perfect opportunity for your photographic gear to be ruined while traveling. Checking it means that the 'baggage handlers' can get to it, so a carry-on size case is perfect to protect your valuable camera and lenses.
If you're looking for a hard case that fits carry-on luggage restrictions, CaseCruzer has developed a photography case that meets your requirements. The Photo StudioCruzer 1510 is a hard core tough and carry-on legal case. And of course, if you carry the case onto the flight, it can't get lost during your flight and your travel photography assignment won't be at risk.
It's from the same company that makes the Pelican cases, but is even tougher. For example, it has metal reinforced padlock protectors, so thieves will have a hard time too.
The StudioCruzer case also fits your laptop, which always goes with your digital camera equipment nowadays. There's a special compartments in the case's lid which holds up to a 15" wide-screen laptop, such as a MacBook Pro or maybe the new flashy MacBook Pro Air (if you're lucky enough to have one!).
As with other Pelican cases, the interior is modular and protects your camera equipment with closed-foam dividers. An extendable handle lets you roll the case through the streets of New York or your chosen airport. The case is top-of-the-line and is dust and waterproof. You can bring this onto the sea and it will float up to 60 pounds of camera equipment in case it goes overboard.
This hard case is a fairly pricey $249, although admittedly, it's cheap for the peace of mind you get. If that's above your budget, there are very similar cases available from the Pelican brand.
Alternative hard case camera cases from Pelican

Pelican has a very similar case called the Pelican 1510 Carry-On Case and this costs around $140. It's very similar to the StudioCruzer case, though not quite as well equipped. They're also not quite as tough, but this is also reflected in the price. They're still water and dust proof (and will float!) and I've seen these cases being run over by a car and still let the camera equipment survive.
Advertisements:



Of course, you can also look for other Pelican Cases from Amazon.com. UK shoppers should visit Amazon.co.uk for Pelican cases. There's a huge range available, from mini-cases for just a digital compact camera to cases that will hold serious flash lighting rigs and field batteries for your travel photography. These carry-on cases are quite large and you won't be able to carry-on other bags at the same time. But Pelican cases are tough enough to check-in, so can most often go in your normal luggage and be perfectly safe.
You should follow me on twitter here.