Introduction to Giza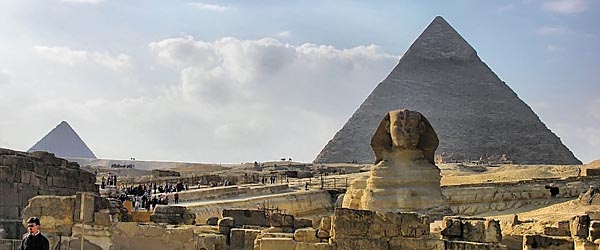 When you think pyramids, you think Egypt. Giza, located outside Cairo, offers tourists and history buffs alike a site that is awe inspiring. From camel rides to hearing the echo of mosque prayers around the pyramids Giza will overwhelm you with it's significance and deep culture. Three Great Pyramids of Giza include Khufu's Pyramid, Khafre's Pyramid and Menkaure's Pyramid. To the east of these are the ruins of Khufu's wives and sisters Pyramid. If you can only visit one Ancient Egyptian landmark while in Egypt, visit the Giza Plateau. Perhaps the most astounding features of the Giza Plateau is the immense space around you. Surrounding the colossal pyramids and the Great Sphinx is infinite space, leaving you feel like a very small creature indeed.
On the Giza Plateau the Great Sphinx awaits your visit with century enduring patience. The Plateau of Giza offers sites seen and written about in popular culture and this has been a highly sought after destination for millions of travelers and historians. The Giza Plateau is a fantastic place to seek out the ancient Egypt you have always imagined as well as enjoy modern Egypt as well. A perfect time to experience the blend of ancient and modern is during one of the Sound and Light Shows near the Great Sphinx and the Solar Boat Museum.
Photo by khalid almasoud on flickr