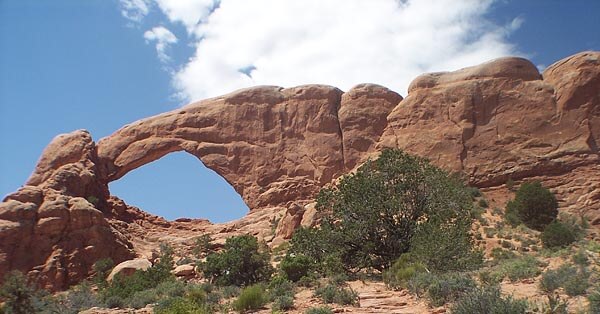 Arches National Park is a lesser-known gem of the American national park system and has over 76 thousand acres filled with over 2,000 individual arches, plus dozens of other unusual rock formations. This once far off the beaten path park was brought into the national conciousness by Edward Abbey's 1968 Desert Solitaire, which included tales of his days as a park ranger at Arches in the late 1950s. Delicate Arch, the iconic emblem of the state of Utah, sits near the northern end of the park road, with a prime viewing area at the end of a short, relatively easy trail. Landscape Arch is located nearby, and is the longest arch in the park, measuring 306 feet from base to base, yet barely six feet in thickness at its smallest section. While these two are the most famous arches, the sheer number of these geologic wonders throughout the park means that you can visit many areas and see incredible sights. Arches is one of the most photographed parks in the world, and just a few minutes here will leave you with no question as to why.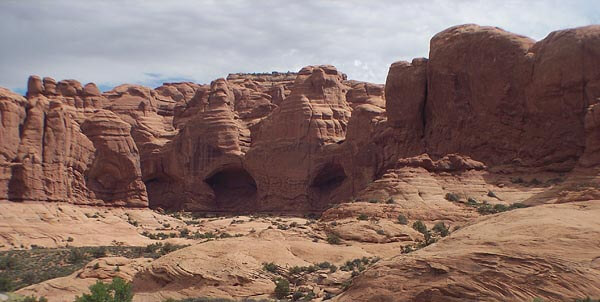 Advertisements:



The park is located just north of the town of Moab in eastern Utah. While the park itself has only a small campground and minimal services, Moab has many hotels, motels, restaurants, grocery stores, and all the other amenities you may need. It is also a mecca for adventure travel – hiking, mountain biking, river rafting, jeep excursions, ATV rides, and much more. Canyonlands National Park is located just to the southwest, making this an ideal opportunity to see two of the most beautiful places in the southwest – and many people combine these two parks with visits to Zion, Bryce, and Grand Canyon, completing the loop known as the Grand Circle.
Arches National Park is located in the high desert, between 4,000 and 6,000 feet in elevation. The climate is very dry, so be certain to carry adequate water – there is very limited water available inside the park. The temperature in Arches will often climb above 100 at any time from May to October, and proper preparation is essential. Because Arches continues to draw more and more visitors – topping 1 million for the first time in 2010 – there are often many people at the most popular viewpoints, so be sure to give yourself plenty of time to enjoy your visit. There is much to see in every section of the park – take your time and explore.
Photos courtesy of Barry Short who sells Soutwest Vistas photos via Zazzle.com
You should follow me on twitter here.