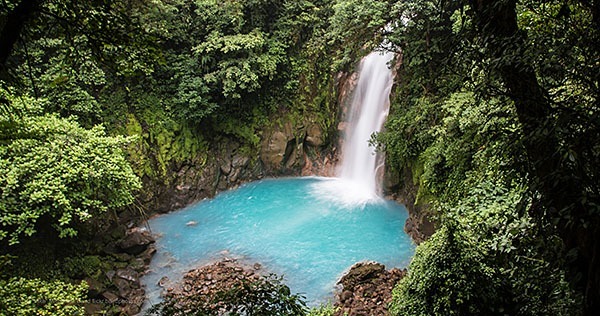 Costa Rica is a charming country in Central America, with an abundance of natural beauty. One thing that should not be missed on your trip to Costa Rica is Tenorio Volcano National Park. The Park is remote and very tranquil and is a much visited area. To access the park a visitor must take a bus to Bujagua and then take a cab to the park entrance. This is a fun park for the vacationers looking for adventures and a very unique volcanic experience. A four to five hour hike on a loop trail is the best way to see this great park.
Advertisements:



Rio Celeste or "Light Blue River" is literally blue because of the sulfur from the volcanoes and the calcium carbonate in the precipitation. You will see thermal springs along the area that is also dotted with geysers, rivers, waterfalls, lagoons and spectacular panoramic views.
It is a rare experience to see the Baird's tapirs at night at the lagoon getting there fill of water. It is rare to see this endangered relative of the rhinoceros because the animal spend most of their lives hiding from their predators. You can also see Occelots and Jaguars at the water.
The Tenorio Volcano National Park is truly a "don't miss" attraction when in Costa Rica.
Photo by mikebaird on flickr
You should follow me on twitter here.