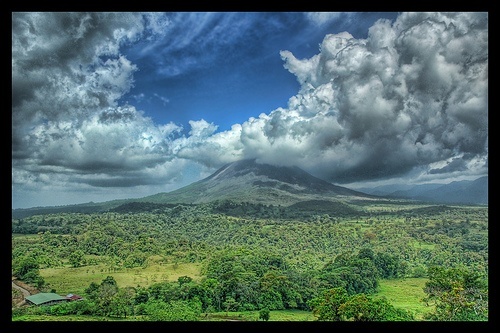 When you visit Costa Rica, be sure that you don't miss the Arenal Volcano. Located about 50 miles from city of San Jose, in the district La Fortuna, Arenal Volcano is a breath taking natural wonder. About 1,600 m high, Arenal is Costa Rica's youngest and most active volcano and it is in the infamous list of 10 most active volcanoes in the world. Its name even shows up in the famous Microsoft screen saver Easter egg.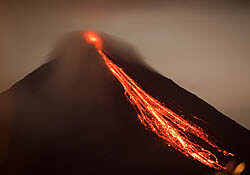 For many hundreds years, this volcano was asleep, until a massive eruption in 1968 when the small town of Tabacón was wiped out and ninety people were killed. Since that eruption, seven bigger eruptions took place, and the volcano shows volcanic activity almost every day. Pyroclastic avalanches occur every now and then, but as they appear on the top of the volcano, sightseeing them is not very good if you visit Costa Rica in the rainy season.
In the area around the volcano, you can even rent "observatory" lodges from which you can get best view to the volcano. They have balconies suited for observing, and the view to volcano is best just before the dawn, when clouds normally shrouding Arenal clear up.
A few years ago, hiking tours to the volcano were organized. Trails went to the west edge of crater, but as many people were killed by falling stones, ash or toxic fumes, tours were forbidden. You can still find and hike on deserted trails, but on your own risk and extreme precaution is recommended!
Advertisements:



Photos by Stuck in Customs and Frank Kehren on flickr
You should follow me on twitter here.