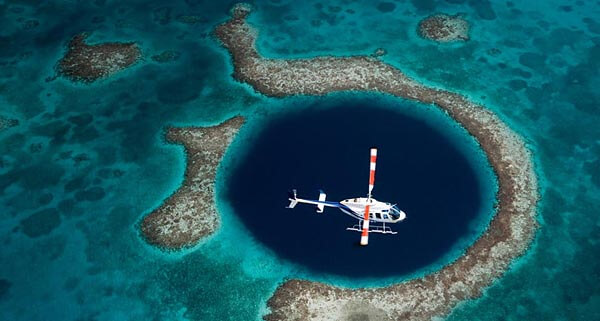 Belize is a constitutional monarchy and is the northernmost Central American nation. It is bordered by Mexico, Guatemala and the Caribbean Sea. It is here where you will find a "world class" scuba diving destination and a myriad of marine life species known as the Great Belize Blue Hole. The major tourist attraction is diving and exploring the famed Blue Hole. While there you will see nurse sharks, giant groupers and reef sharks among others.
Plan on spending a full day exploring the Blue Hole, a part of the Lighthouse Reef System.
The Blue Hole is great underwater sink hole made famous by Jacques Cousteau in 1971. Since then scuba divers from around the world have visited it and enjoyed the wonders under the sea. The water is quite still, deep, blue, green and crystal clear so you can see 200 feet.
Advertisements:



Going deep in the blue hole you will it packed with cave type features such as stalactites and stalagmites.
Visiting Belize and scuba diving in the Great Blue Hole is really a once in a lifetime experience to enjoy.
You should follow me on twitter here.