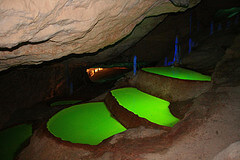 Now is the time to be planning your next vacation. Have you thought about Spain? It is an enchanting country with many point of interest but one of the best things to do is travel to the north end of Ibiza Island near Puerto de San Miguel and visit the C'an Marça Caves.
Advertisements:



Getting to the caves is scenic in itself with the golden sand beach and deep clear water. It is a short walk from the beautiful beach to the multi-level caves. Once at the caves the views are spectacular as you walk down the steep steps to the cave entrance. Once inside you will see the damp golden walls with stalactites, hanging from the ceiling and stalagmites growing out of the floor. You will see ancient geological forms and waterfalls that were recovered artificially.
The tour guides are bilingual, speaking both English and Spanish. They will give an abundance of very interesting historical facts including the fact that the caves were used as a hiding place in the smuggling era.
For the visitor there are hotels nearby, car rental and tour buses to get you to the cave. It is well worth the time you spend getting there.
C'an Marça Caves location and hours
Cova de C'an Marça
07815 Port de Sant Miguel
The caves are open year round.
Photo by Iwo Schwalbe on flickr
You should follow me on twitter here.