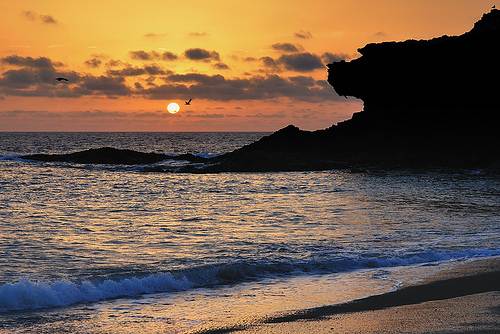 When winter's chill is becoming tiresome and dreary, many families from the UK and across Europe head for the Canary Islands and Fuerteventura. Fuerteventura is a Spanish island, this very arid and rather isolated area is a true desert located less than 200 km from the Sahara Desert. A world unto itself, Fuerteventura and its sister islands were formed from underwater volcanic eruptions thousands of years ago. Today, vacationers can enjoy the ocean, the beaches, natural wildlife, shopping and exciting night entertainment without feeling cramped or overcrowded by excessive tourism.
In fact, it wasn't until about 1980 that tourists began discovering this private and less-commercialised vacation setting. Accommodations on the island vary from plush hotels to equally lovely self catered Fuerteventura apartments that offer all the amenities necessary for an ideal family vacation. One and two bedroom apartments include kitchenettes for eating in and lovely balconies or terraces from which the ocean's beauty can be enjoyed, free cots for children under 16, freshwater swimming pools, restaurants, quiet bars, lounges and evening entertainment. The endless stretches of fine white beaches are always just a few steps away.
Those peaceful beaches are one of the big attractions at Fuerteventura. Sunbathing, swimming, surfing or just strolling are all favorite pastimes for visitors who are desperate for sunshine and warmth. This area delivers on both points with less than two cm of rain a month and a consistent yearly climate that ranges from warm to hot day after beautiful day. Surf and dive schools offer lessons for those who have always wanted to experience the ocean in a more personal way, and for those who just want to splash around or sun bathe, the un-crowded beaches are always waiting.
Advertisements:



In addition to water sports, Fuerteventura offers scenic rural adventures that can be experienced by bicycle, motor bike, quad or even horseback. The volcanic ruins of Tindaya, the pirate towers and castles on Antigua, wildlife areas, disappearing shipwrecks and camel farms offer something of interest for every age. Shoppers will want to take advantage of the tax free alcohol, tobacco and designer perfumes for sale on the island at malls such as Las Rotondos. Weekly local markets in the capital Puerto del Rosario offer good deals on knock-offs and local crafts.
Fuerteventura's night scene consists of private clubs and bars at most resorts and partying at British pubs and disco bars in the party town of Corralejo. Throughout the island live Latin and Spanish music venues are out in the open air for come-as-you are enjoyment. High end restaurants with 5-star ratings are located in resorts, shopping districts and along the beach front where diners can sit outdoors and savor the ocean's magic while they dine. Fuerteventura may be one of the quieter vacation spots, but that is definitely one of the reasons loyal vacationers return year after year. Maybe it's finally your turn.
Photo by Guillermo Fdez on flickr
Villas in Spain to Rent - See our selection of holiday villas, apartments and holiday homes to rent in Spain direct from their owners.
You should follow me on twitter here.