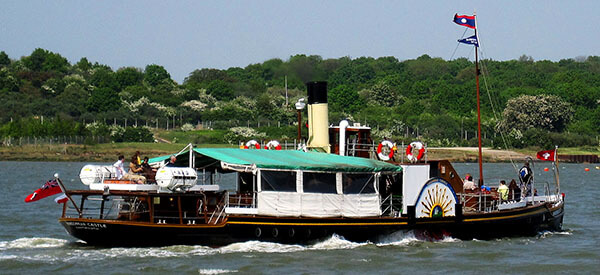 A visit to England should include the coal fired paddle wheel steamer "Kingswear Castle" built in 1924. It was meant to serve the picturesque River Dart in Devon, and was built to be identical to her two sisters "Comton Castle" and "Totnes Castle". This was the last paddle steamer built for service on the Dart. It replaced the previous Kingswear Castle and entered service in 1924.
At the end of the season in 1965 the steamer was withdrawn from service because of the heavy losses most steamer services were having when the traditional day at the seaside began to wane.
In 1967 the Kingwear Castle was purchased by the Paddle Steamer Preservation Society.
Since 1985 the steamer has taken on a wide program of cruises on the River Medway and the River Thames and places like Whitstable, Southend, and London. These are all very different and more hectic than the cruises on the River Dart. If you want to "rub elbows" with the famous – HRH Prince Edward and Margaret Thatcher have been seen on these cruises.
The Kingswear Castle has won several awards including the National Steam Heritage Award and the Scania Transport Trust Award. The paddle steamer is included the core collection list of the National Historic Ships Committee also.
The sailing season for starts in early April and end in late October. The vessel is wheelchair accessible and can accept groups of 100. If taking a group, you can chose a 1-2 or 3 hour tour. The 3 hour tour offers a buffet of finger food as well as wine on board. Individual tickets for adults are about $45 US Dollars. The tour lasts from 11AM to 5PM on weekend. Educational tours can also be arranged. At the dock there is a facility where you can have a catered lunch if desired, buy souvenirs and post cards also.
Kingswear Castle location and bookings
The steamer has changed it location of operations several times over the past years. Currently the steamer is operating on the original River Dart and this is planned to remain its home. Do check the website for any changes, as well as bookings.
Advertisements:



Photo by Calotype46 on flickr
You should follow me on twitter here.