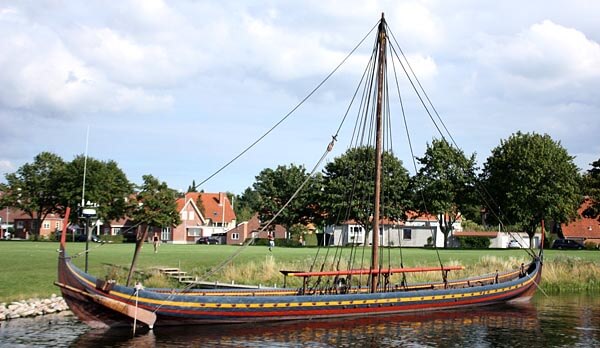 Visitors to Denmark who are interested in the culture of Nordic boatbuilding, seafaring and its maritime history have a great opportunity to gain knowledge by visiting the Viking Ship Museum in Roskilde (Vikingeskibsmuseet in Danish). Opened in 1969 with a Viking Ship Hall, which displays five Viking ships, the museum boatyard called Museum Island was added in 1997. Along with a collection of Nordic boats berthed there, visitors can view shipwrights at work. They build boats, specializing in reconstruction of prehistoric ones using traditional methods. There is also an Archaeological Workshop on the island where information about Denmark's archaeological discoveries can be found in the archives.
Besides the five Viking ships exhibited in The Viking Ship Hall, there are temporary exhibitions in a West Wing and in the East Wing are copies of a trading vessel and a war ship. There is also a cinema showing films detailing how the Viking ships are excavated and reconstructed. The museum is especially entertaining for young children who can board the cargo ship and the warship and listen to the guides tell stories about the Vikings and see their swords, helmets, and axes, along with other artifacts. They are allowed to swing the heavy swords, dress like a Viking and even take a sailing trip on one of the boats in the fjord.
The five Viking ships, called the Skuldelev ships, date back to the Eleventh Century when Roskilde was the capital of Denmark. They were part of a blockade defending the city and were scuttled to block the Roskilde Fjord near Skuldelev. Each one were a different type of ship that give an exceptional view of how the Vikings built their ships and the craftsmanship that went into their construction.
The Viking Ship Museum address and hours
Advertisements:



Vikingeskibsmuseet
Vindeboder 12
DK-4000 Roskilde
Denmark
25. June - 31. August - 10:00 - 17:00
1. September - 24. June - 10:00 - 16:00
Closed for christmas on the 24th, 25th and 31st of December
Photo by sunfox on flickr
You should follow me on twitter here.