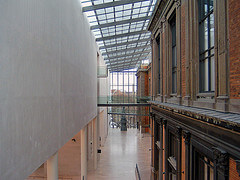 The national art museum of Denmark, the Statens Museum is a must see when visiting the capital city of Copenhagen. While focusing on the collection and preservation of Danish artwork, the museum boasts a wide collection of world treasures as well. The Museum's roots date back to the mid 1700s when then king Kunstkammeret was encouraged to start a preservation program for the royal artworks in the palaces. In 1889 the first dedicated museum building was started to house the treasures. Through the centuries the builing has undergone a great number of additions and re-constructions to keep it both current and to protect the art it houses.
The artworks themselves date back as far as the 12th century and include works by Rembrandt, Jordaens, Frans Hals, Rubens, Bloemaert, and Gysbrechts. The museum also has had an ongoing effort to collect art through the years so that there is a considerable amount of works documenting each period right up to exhibits of current artists. On of the perennial favorites is the extensive collection of works on paper. Much more delicate than traditional paintings or sculptures, these works must be handled with extreme care. The museum boasts over 300,000 pieces in a rotating display.
If you are planning on visiting the museum be sure to schedule your itinerary to avoid going on Mondays as the museum is closed. The museum does have a café on the premises should you need a little pick-me-up as you make your way through the galleries. You can also arrange guided tours with advanced notice. To see current exhibits visit the museum's website which display information in both Danish and English.
Advertisements:



Photo credit: only point five on flickr
You should follow me on twitter here.