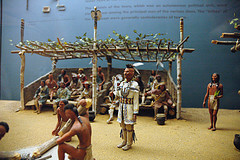 The National Museum of the American Indian (NMAI) is organized by the Smithsonian Institution. There are two places where Native Indian art and culture are exhibited, one in New York City and another in Washington D.C.
In New York City, the museum is housed in the George Gustave Heye Centre at One Bowling Green. The exhibits include art and artifacts of Native American Indians. It is a very extensive collection spanning over 12,000 years of history and represents the cultures of more than 1,000 tribes from the Americas, Canada and the Caribbean. However, there are no native Hawaiian objects in the collection. More than half the collections are archeological, and only a small part of it is modern. In addition to the collection of objects, the museum also holds photographic, media and paper archives.
Advertisements:



The Museum offers special programs of films, tours, lectures, workshops and performances of music and dance. Outreach programs are also organized. Smithsonian arranges tour programs for schools and families. Annual Membership fee to the Smithsonian's National Museum of the American Indian starts at just $25 and the money is used to support and preserve the American Indian culture.
Members receive a full color quarterly journal, "American Indian" and are also entitled to a 10% discount on purchases from all Smithsonian Museum stores, catalogs and online purchases. Members paying a higher annual membership fee are eligible for additional privileges.
The Museum is open all days except on Christmas Day. Open hours are from 10 am to 5pm every day except on Thursdays, when it is open till 8pm. The Museum can be reached by bus or subway. If you drive, you will have to find private parking places nearby since the Museum has no parking facility. Admission is free.
Photo credit: churl on flickr
You should follow me on twitter here.