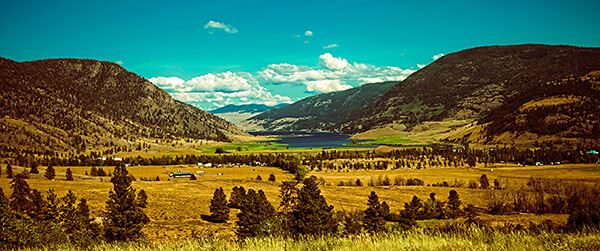 The Okanagan Valley, with its Okanagan Lake, is a picturesque region in the southern part of Canada's British Columbia that sits between Osoyoos at the border with the United States, north of Vernon. The valley has many places to visit that offer a variety of year round recreation facilities including scuba diving, beaches, parks, recreation sites, campgrounds and ski areas. Okanagan Lake, which is seventy miles long, even has its own mythical sea monster called Ogopogo, a replica of which is found twenty-five feet underwater at Paul's Tomb in the Knox Mountain Nature Park in Kelowna.
Located on the east side of the lake, Kelowna is the largest of the cities in the valley. It has many golf courses that are pleasingly set among fruit orchards and challenging water hazards and are especially beautiful in springtime when the fruit trees are in bloom. The city also offers a lively nightlife, an art museum and a summer theater.
The town of Penticton has two lakefronts, one at the north shore of Skaha Lake and the other at the southern tip of Lake Okanagan. Here can be found amusements like go-carts, water slides and miniature golf courses. Astronomers from around the globe visit Penticton for its Dominion Radio Astrophysical Observatory, which allows visitors and has Sunday afternoon tours.
Advertisements:



For lovers of wildlife, the Vaseux Lake Provincial Park contains a wildlife center with a sanctuary adjacent to it run by the Canadian Wildlife Service. The park is surrounded by cliffs inhabited by bighorn sheep and is also home to a great many species of birds and waterfowl. Here can also be seen deer, beavers, cottontail rabbits, muskrats, and reptiles such as rattlesnakes. The waters contain largemouth bass and rainbow trout.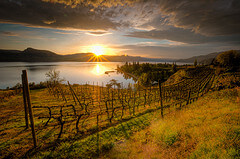 Winemaking is prevalent in Okanagan, which is British Columbia's oldest wine producing region. There are numerous wineries operating in the valley that are open in summer and some of them have tasting rooms for visitors.
There is a Tudor theme town in the valley called Summerland, which offers a walking tour and also an active agricultural research center that attracts many international visitors.
The Okanagan Valley is a year-round recreation destination that is popular for adventurous sports buffs like mountain biking and downhill skiing to those who are golfing, swimming and boating enthusiasts.
Photos by TEDDSON (1) and Preserved Light by Caillum Smith (2) on flickr
You should follow me on twitter here.