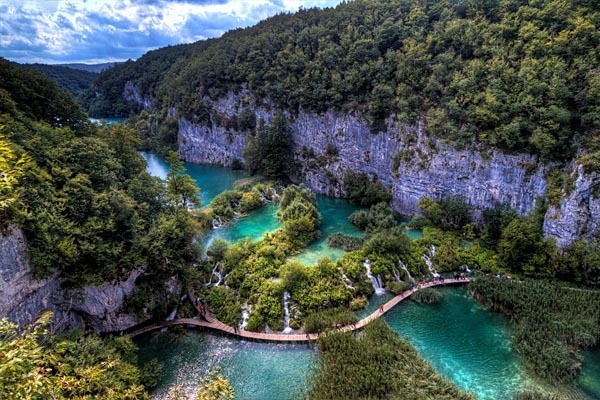 Cascading waterfalls, bright blue waters teeming with fish and lush vegetation may seem like a description for a tropical island, however, Plitvice Lakes National Park in southern Europe holds all of these things and more. Located in the mountainous area of central Croatia, the park is the country's largest. With 16 lakes spread over 73,000 acres, it became a national park in 1949 and was elevated to the UNESCO World Heritage Register in 1979.
Over a million visitors come to the park each year to enjoy beautiful waterfalls that are too numerous to count as well as the pristine waters of the lakes they feed. Travertine barriers created by the water washing over the natural limestone and chalk have produced the falls, lakes and caves that people flock to see. The lush foliage of the park is due to the many microclimates and differing altitudes within the park that is surrounded by mountain ranges. Along with the dense forest including spruce, beech and firs visitors often see large mammals such as bear, wolves and lynx here. An abundance of bird species are seen and many use the park as their breeding and nesting grounds.
Prehistoric artifacts from around 1000 BC attributed to the Illyrian tribe of Japuds were found here and that civilization was followed by the Romans and the Slavs. The local people still honor their customs and traditions and visitors get to enjoy the regional cuisine and architecture that is still found here. Almost as beautiful in winter when the water from the falls starts to freeze and snow hits the ground, the Plitvice Lakes National Park offers an abundance of activities for the outdoor enthusiast.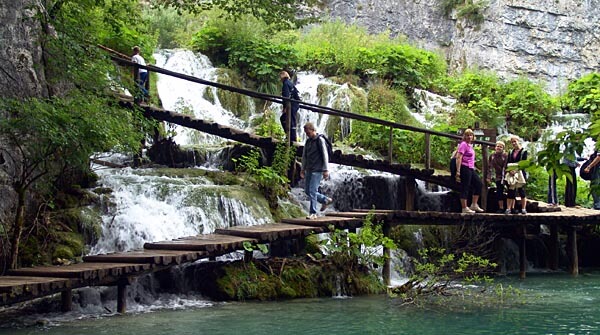 Whether you want to hike the many trails or wooden pathways or photograph the park in all of its beauty there is something here for the nature lover. Camping is available but if you prefer a less rustic overnight stay, there are 3 hotels within the park itself. Surrounding villages and towns also offer accommodations close by and you can purchase one or two day tickets into the park.
For a trip to paradise when in Croatia, you must see the Plitvice Lakes National Park. The park is located about 2 hours drive south of Zagreb, and there are many tours originating in the capital. Feeling the spray from a waterfall, bird-watching or simply relaxing by a turquoise blue lake will take you to a different place and time right in southern Europe.
Advertisements:



Photos by To Uncertainty And Beyond (1) and rosa-amato (2) on flickr
You should follow me on twitter here.