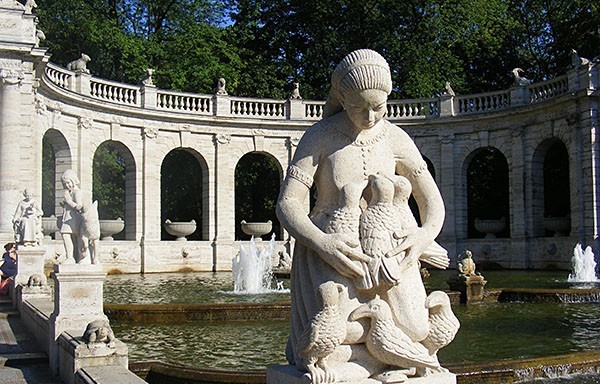 Volkspark Friedrichshain is a 52 hectares urban park, the oldest in Berlin that's open to the public. The park dates back to 1846 and has plenty of history, much of the park was destroyed in the second world war, and until the 1980s the park was lost to the western world, located in the Soviet sector behind the Berlin Wall. The park unsurprisingly has many monuments and memorials, remembering things such as the Spanish Civil War and the courage of the German Anti-Fascists.
Features of the park include "the tall bunker mountain" and "the small bunker mountain", these were created in 1946 using rubble from the ruined city, now completely green, these hills look like natural features of the park.
In modern times, the park has become a leisure park attracting thousands of people each day. You can sunbathe and enjoy a picnic or simply have a lazy time, there is a restaurant, tennis courts for the more active, a pond, wading pool and also great routes with pleasant surroundings for joggers.
No trip to Berlin would be complete without a visit to this historical park! With activities for the whole family, and plenty of interest for the historians amongst us, it is a perfect place to come and spend a day. The park can be found via public transport by catching bus number 200.
Volkspark Friedrichshain location
Volkspark Friedrichshain
On the border of the Berlin neighborhoods of Friedrichshain and Prenzlauer Berg.
Advertisements:



Photo by sludgegulper on flickr
You should follow me on twitter here.