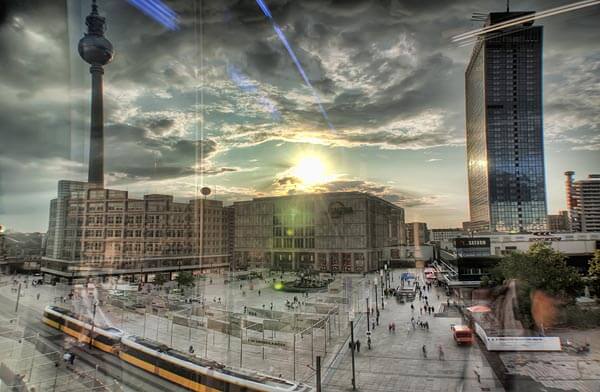 The public square of Alexanderplatz in Berlin was named after a visit from the Russian emperor Alexander the first. The square better known as Alex by locals; is a vibrant destination for business and leisure travelers alike. The Alexanderplatz station is at the centre of trading and transport as it is a stop for the S-Bahn rapid transit lines as well as the Regional-Express and Regionalbahn networks. The station is also served by tram and bus lines that run continiously.
Advertisements:



The architecture of the buildings on the square portrays the political and social history of Berlin. Lovers of architecture will toroughly enjoy the sight of the Rotes Rathaus, which translates to the red town hall, that houses the Berlin senate. The facade of the building features red clinker bricks and a tower on the main portal that illustrates the city's history up until the year 1871. The Berliner Dom, the largest cathedral in Berlin, features mosaics decorating the ceiling of the dome is also a must see when travelling through Berlin.
Other attractions of Alexanderplatz include the Berliner Fernsehturm, a 368 meter high television tower complete with a viewing platform and telecafe. Witnessing a panoramic view of Berlin from the 360 degree rotating cafe while you enjoy coffee or a light lunch is definitely one of the most attractive features of Alex. The Volkerfreundschaft, or fountain of friendship, is a 23 meter wide, circular fountain that is a popular meeting place for friends.
Spoil yourself with a day's shopping at the Alexa shopping center or take a stroll through the nearby Volkspark Friederichshain where you can view the Fairytale fountain that features stone sculptures of traditional German fairytale characters. The park is open 24 hours and has several playgrounds, a pond and walking or jogging paths with rolling hills and plentiful open spaces to enjoy.
Photo by Werner Kunz on flickr
You should follow me on twitter here.