Introduction to Berlin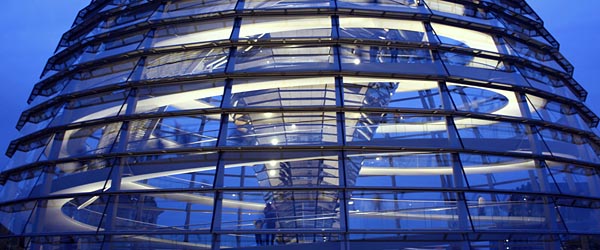 Berlin is the capital of Germany and the largest city in Germany. It is best known for it's historical associations, internationality and tolerance. It was the heart of the Prussian kingdom, headquarters of Hitler's third Reich and a key city in the cold war having a wall divide the city. Because it was so destroyed by WW II it was considered by the government to leave it in ruins but instead they rebuilt.
Today you can visit both sides of the city because the wall is gone and the people are all free but there still is a small section of the wall to see.
To go to Berlin you will need your passport for sure. There are two airports in Berlin but the international flights come into Tegel International Airport. Schonefeld airport is used for charter flights and by the budget airlines in Europe. When you land in this huge city you can grab a bus, tram, train or underground service to get around. You may chose to use the cab also by hailing it down if the yellow light on top shows it is available. You can opt to just go to a taxi stand instead. Generally the drivers speak English so you shouldn't have a problem being understood. You can also obtain a Berlin route planner and it has wonderful maps and schedules for the buses and trams.
Berliners are noted for liking their drinks, whether beer or cocktails. This makes the night life lively. There are pubs, clubs and cafés for the visitor to enjoy and mingle with the local. Perhaps after you had stopped at a couple places you may need the phone number for instruction on how to get back to the hotel!
There are numerous museums such as Bode-Museum, Museum of European Cultures, Museum of European Cultures, Berliner Medizinhistorisches Museum der Charité and many more to chose from.
For the art enthusiast you can visit Art Center Berlin Friedrichstraße or Galerie Eigen & Art gallery.
Berlin has few high rise building but there are several monument with observations decks you can go to. The most famous is the TV tower near Alexanderplatz which is tallest tower in Germany and has a rotating café at the top which spins 360 degrees in 30 minute. An interesting for lunch or dinner while you view the city.
For a quieter nightlife there are eight theatres for live performances, four opera houses, several movie theaters and two concert halls.
If you are a sports buff you can take in a game or two. There is German, American and Australian football. There are basketball, floorball and hockey games. You can swim or get in 18 holes on one of the many golf course.
There are several five star hotels, but also budget hotels that are modestly priced some even include breakfast with the room. Restaurants are plentiful with your choice of cuisine.
Photo by alles-schlumpf on flickr