Getting to and around in Berlin
The districts of Berlin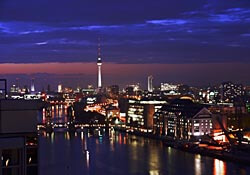 Berlin has more than one downtown. The city's many districts, called Bezirke, each of which has it's own individual feel to it. There are 16 main districts in Berlin:
Mitte
Mitte, and also Tiergarten and Wedding, make up the historical center of Berlin. This used to be the center of former East Berlin and is once again the focus of life in the city. There are restaurants, museums, art galleries, cafés, and clubs everywhere you look in Mitte together with many interesting historical sites.
Friedrichshain-Kreuzberg
Immigrant culture, left leaning students, and bohemian artists make up much of Berlin's Friedrichshain-Kreuzberg area. There's great nightlife to be found in Friedrichshain-Kreuzberg, but also a number of museums as you get closer to Mitte.
Pankow
A trendy part of former East Berlin, Pankow together with Weißensee and Prenzlauer Berg is undergoing rapid gentrification. Located north of Mitte, Pankow is popular with artists, students, and the hip media crowd.
Charlottenburg-Wilmersdorf
The heart of City West and spread around the Schloss Charlottenberg castle. This area is also home to the Kurfürstendamm, often shortened to Ku'Damm, which is one of the main shopping drags of the former West Berlin. In Ku'Damm you'll find plenty of luxury retailers, high end restaurants and hotels.
Spandau
Once a town in its own right, Spandau is one of the oldest areas in the Berlin region and still retains much of its own unique character, having been spared the worst of the Allied bombing in the Second World War that so devastated the rest of the city. The center of the town is formed by a dense network of medieval streets and a market square, still retaining a large number of timber-framed buildings.
Steglitz-Zehlendorf
Here you'll find Berlin's largest university, the Freie Universität, as well as a number of often overlooked historical buildings and great museums. The Zehlendorf is one of the wealthiest, and greenest, parts of Berlin.
Tempelhof-Schöneberg
The Tempelhof and Schöneberg areas are well known for the Saturday markets, an easy going lifestyle, and the Akazienstraße's street cafés. Tempelhof is also where Berlin's Tempelhof airport is located.
Neukölln
Neukölln is known for its high immigrant population. To see their influence on Neukölln culture, get out at U-Bahnstation Hermannplatz and walk down Karl Marx Strasse south toward the next station, Rathaus Neukölln. Neukölln offers big contrasts between the poorer northern part and the more village looking south parts. Southern neighborhoods Britz, Buckow and Rudow became part of Berlin in the 1930s and kept its structure.
Treptow-Köpenick
Treptow-Köpenick is a district of Berlin. Köpenick is known for its old town, its castle and the many lakes and forests. Treptow is more a residential district and well known to Berliners for its big park and some beautiful views of River Spree
Marzahn-Hellersdorf
Marzahn-Hellersdorf is a very green district in the northeast of Berlin. Mostly residential, with working and middle class families, and dominated by socialist blocky architecture. There are some mostly undiscovered village like areas of the district, but Marzahn-Hellersdorf doesn't have a big draw for the average tourist.
Lichtenberg
Home to Tierpark, Berlin's largest zoo which also incorporates the 17th century Schloss Friedrichsfelde castle, and the Stasi Museum and the Stasi Prison (which offers twice daily tours). Otherwise, this is another residential district.
Reinickendorf
Reinickendorf is a district in the northwest of Berlin. It consists of Tegel, Reinickendorf, Märkisches Viertel, and some small village-like areas. In general, it is a very green district with much water and the neighborhoods have a typical small town cityscape. In addition to the airport there are some minor sights interesting for tourists especially architecture in Tegel and the Schloss Tegel.
Local transport in Berlin
If you don't know how to get somewhere or don't know how to get back to your hotel at night you can call +49 30 19449 for the customer service department of the transportation department for help, a rather handy thing.
Nothing yet!
There aren't any articles written for this location yet. If you have a travel story, advice, or would like to write about a sight, venue, or event here, please get in touch via: