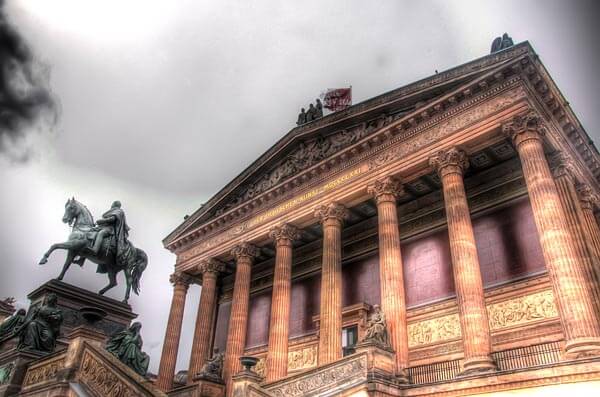 The Alte Nationalgalerie in Berlin, Germany was heavily damaged in World War II, with much of it's artwork burned or stolen. Since the fall of the Berlin Wall in 1989, however, many of the missing pieces have been returned and the building itself has been fully restored to it's original stately elegance and has been opened continuously to the public since 2001.
Advertisements:



The museum, part of the Museum Island complex on the Spree river, houses famed 18th, 19th and 20th century works including masterpieces from artists like Cezanne, Degas and Rodin. The top floor of the Alte Nationalgalerie is devoted to Romanticism and Classicism. A large collection is displayed from the great German painter Caspar David Friedrich along with early landscapes from the architect Karl Friedrich Schinkel. The second floor features Impressionism, Realism and Idealism, including Van Gogh and Munch, with the ground floor devoted to Modernism and sculpture.
Visitors to the Alte Nationalgalerie have a lot to see. Within the same complex is the Altes Museum, which includes an extensive Greek collection, and the Neues Museum which includes ancient Egyptian works. If that isn't enough, art lovers can also visit the Bode and Pergamon museums, as well as tour the Berlin Cathedral before taking a break in Lustgarten park. Together, this complex forms one of the most important cultural destinations in Europe.
Alte Nationalgalerie address and hours
Alte Nationalgalerie
Bodestrasse 1-3 (Museum Island)
Berlin, Berlin D-10178
Germany
Tuesday-Sunday 10-18, Thursdays 10-22, closed Mondays
Photo by Werner Kunz on flickr
You should follow me on twitter here.