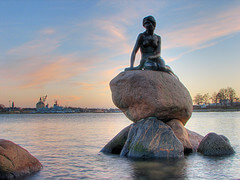 Just offshore of Copenhagen's picturesque harbor sits the lovely, demure statue of "the little mermaid", which has become one of the city's landmarks. Supported on a granite boulder, the bronze statue was sculpted by Edvard Eriksen in 1909 at the request of the owner of Carlsburg Breweries, Carl Jacobsen. He was fascinated by the 1837 short story, "The Little Mermaid", written by Denmark's famous author, Hans Christian Anderson: A tale of a mermaid who traded her soul for legs after falling in love with a prince. It is surprisingly small but is a life-size statue that was modeled after a prima ballerina from the Copenhagen Royal Theater who danced the mermaid's part in a ballet about the mermaid's story. The statue has the ballerina's head but the body was modeled by the sculptor's wife because the ballerina did not want to model in the nude.
Mr. Eriksen's family has the original statue, with the copy in the harbor being made from the original mold. Over the years the statue has been vandalized and damaged many times but is continually restored with the help of that mold. The statue became even more famous after Disney produced a movie about Ariel, "The Little Mermaid", which helped it to become one of Copenhagen's most visited attractions. It is located a short walk away from the cruise ship pier in Copenhagen's harbor. Visitors are fascinated by the little figure that appears a bit sad as she gazes toward the sea, seeming to be on the lookout for her prince who will not come.
The Little Mermaid location
Advertisements:



The Little Mermaid sits close to the shore of the cruise harbor "Langelinie" on her granite resting place, in the old port district of Nyhavn. It is a short walk from the main cruise pier.
Photo by hoangnt on flickr
You should follow me on twitter here.