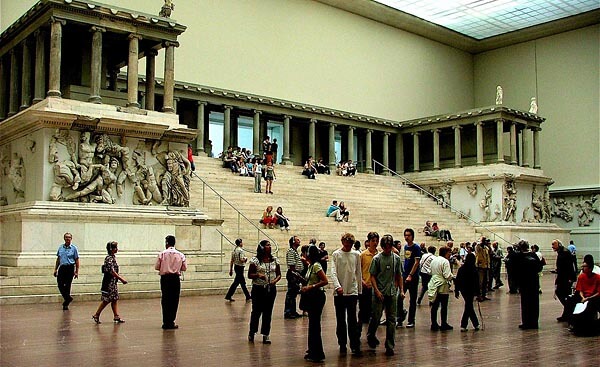 Berlin's Museum Island earned its name thanks to the many renowned museums it is home to. One of these is The Pergamon Museum, named for the Pergamon Altar, a monument so large that it fills one of the museum's rooms. The museum is the youngest one on the island, having only been built in 1930, but its three wings still have plenty to offer to visitors.
One of these wings is the Antiquity Collection, which contains sculptures, jewelry, and many more items that date back as far as the 2nd century BC. Most of these items are Greek and Roman in origin.
The Islamic Art Museum is in another wing and contains mainly Egyptian and Persian art. One of the highlights of it is the Mshatta Facade, which was part of the Mshatta palace in the 8th century.
The museum's third wing is the The Middle East Museum, which contains one of the world's largest collections of items from the ancient Babylonia, Persia, and Assyria. If you are in Berlin, be sure to check out both Museum Island and The Pergamon Museum.
Pergamon Museum address and hours
Pergamon Museum
Am Kupfergraben 5
10117 Berlin
Public Transport
Advertisements:



U-Bahn U6 (Friedrichstraße)
S-Bahn S1, S2, S25 (Friedrichstraße); S5, S7, S75 (Hackescher Markt)
Tram M1, 12 (Am Kupfergraben); M4, M5, M6 (Hackescher Markt)
Bus TXL (Staatsoper); 100, 200 (Lustgarten); 147 (Friedrichstraße)
Hours of Operation
Open 10 am to 6 pm every day, with late hours to 10 pm on Thursdays.
Photo by roel1943 on flickr
You should follow me on twitter here.