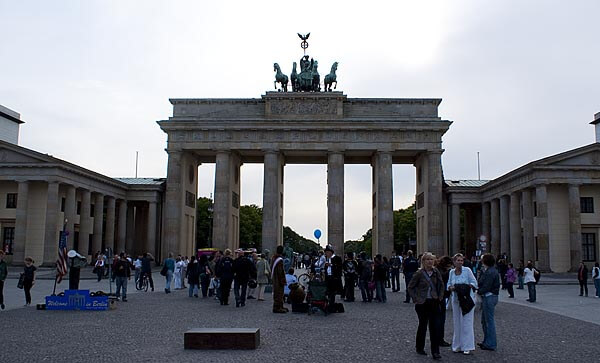 The Brandenburg Gate in Berlin is one of that city's most powerful tourist attractions, with a long and ironic history that stretches back over three centuries. The gate was originally commissioned by Prussia's King Friedrich William II, following the conclusion of the Thirty Years War. The gate was meant to symbolize peace and religious tolerance. Architect Karl Gotthard Langhans based his design on Grecian architecture, and meant the Brandenburg to be considered another "Athens on the River."
The Brandenburg Gate is composed of a series of twelve columns, forming five separate passageways into the city. The Berlin Quadriga, sculpted by Johann Gottfried Schadow, rests atop the gate. The Berlin Quadriga is one of the world's most important examples of quadriga sculpture, and has been separated from the Brandenburg Gate several times throughout its history, most notably as a spoil of war when Napoleon occupied Berlin in the early nineteenth century.
Advertisements:



The Gate was used as a Nazi party symbol during WWII and was one of the few structures in the Pariser Platz to survive the war. Although the East and West Berlin governments worked together to restore the gate, it soon became part of the Berlin Wall when it was erected in 1961. The gate crossings were blocked until 1989, when West German chancellor Helmut Kohl walked through the historic gate to meet the East German prime minister, Hans Modrow.
Today, the Brandenburg Gate is free to tour and available to the public 24 hours a day, with free, English-speaking walking tours available beginning at 11am. Tourists can get their passports stamped for both East and West Germany at the gate as a memento.
You should follow me on twitter here.