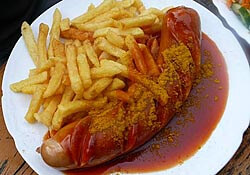 Berlin food isn't all currywurst, a bratwurst covered in ketchup and curry powder. While you'll find those on every streetcorner of Berlin, there are better options to be had. So if you're looking for good cheap eats in Berlin, here are some great options for pizza, Indian and Asian food, and the more genuinely German.
3 brilliant pizza joints
Pizza can come across as a dull option when traveling. But in Berlin, a select few pizza restaurants have integrated the diversity of Berlin into their food. Here are 3 favorites in Berlin's Mitte:
Pizzeria I Due Forni
Fantastic pizzas and revolutionary inspiration is served up at I Due Forni. The waiters, and the pizza, are properly Italian in this place. Wait staff is all Italian and has traveled to work here. The pizza is of more local ingredients, and very fresh and tasty. The decoration reminds you of Berlin's revolutionary undercurrent, and features Che Guevara as the fashion icon of counter culture.
Pizzeria I Due Forni
Schönhauser Allee 12
10119 Berlin, Germany
Papa Pane
Don't let the beer garden lookalike long tables fool you, they're a clever ploy to make the Berliners feel more at home with the genuinely un-German earthy decor at Papa Pane. The pizza is pure Naples and tossed properly before being baked in a real stone oven. Yum!
Papa Pane
Ackerstraße 23
10115 Berlin, Germany
www.papapane.de
Istoria
Veggie pizza or something a bit more German... the menu runs to several pages of pizza madness. Definitely one to avoid for those who can't decide. If you can, take a break here and chill out under Istoria's Michelangelo inspired painted ceilings.
Istoria
Kollwitzstraße 64
10435 Berlin, Germany
3 spicy Indian restaurants
Hardly known for Indian excellence, Berlin does nonetheless have some decent Indian restaurants.
Amrit
Bollywood inspired interior and plenty of fish and seafood dishes in this Indian. Even better, Amrit is open really late. Also with branches in Mitte and Schöneberg.
Advertisements:



Amrit
Oranienstraße 202
10999 Kreuzberg, Berlin
www.amrit.de
Himalaya
Good food is the order of the day at Himalaya. They succeed, and at cheap prices too. Try the samosas here.
Himalaya
Lychener Straße 3
10437 Prenzlauer Berg, Berlin
Aapka
This relaxed Indian restaurant serves good portions that are large enough to ask for a doggy bag.
Aapka
Kastanienallee 50
10119 Mitte, Berlin, Germany
www.aapka.de
More great cheap eats in Berlin
Dolores
Fusion Mexican food in Berlin? Well, Dolores delivers if you're jonesing for quesadillas or nachos while in Berlin. Check out the meal specials, that include fresh juices, coffee, or teas. Very cheap as well, you can get a dinner for 5€.
Dolores
Rosa-Luxemburg-Straße 7
10178 Mitte, Berlin
Tulum
Tulum, a variety of Tex-Mex food for low prices and nice cocktails. Patrons are mainly a younger crowd. The Wilmersdorf area is close to Charlottenburg.
Tulum
Am Volkspark 85
Wilmersdorf, Berlin
Morgenland
Good food for mid range prices at Morgenland. On the weekends, they put on an oriental breakfast buffet that gets very busy. Make a reservation to ensure a seat.
Morgenland
Skalitzer Straße 35
Kreuzberg, Berlin
Nil
Sudanese fast food shop, serves excellent falafel and other Arabic snacks together with its famous peanut sauce. They have 3 locations:
Oppelner Straße 4-5, Kreuzberg
Lankwitzer Straße 39, Lankwitz
Grünberger Straße 52, Friedrichshain
Cafe Restaurant Berlin
Genuine German food is served here. Puts on a breakfast buffet Mondays through Saturdays between 8-12am. On Sundays, the brunch starts at 8 and wraps up around 2pm.
Cafe Restaurant Berlin
Gleimstrasse 24, tel 030-4480792
Mitte, Berlin
Schinkel-Klause
The Opera House restaurant serves genuine German food for low prices. Try the Berliner Weisse und Berliner Eisbein for just 13€. It's a great big heaping platter of let meat, so bring your appetite.
Schinkel-Klause
Unter den Linden 5
Mitte, Berlin
Bangkok Treffpunkt
Thai cuisines served with excellence. Highly recommended for quality Thai at value prices. Has (apparently) had the same prices since 1996! Open until 11pm.
Bangkok Treffpunkt
Prenzlauer Allee 46
Prenzelberg, Berlin
Konnopkes Imbiss
Leaving the obligatory Currywurst to last, this is the ultimate Currywurst restaurant. Ask for the "Curry mit 'ner Schrippe" anytime between 6am and 8pm Monday-Friday.
Konnopkes Imbiss
Schönhauser Allee 44a
Prenzelberg, Berlin
You should follow me on twitter here.