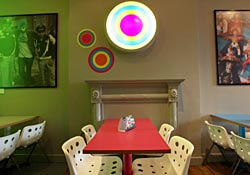 If you're in the mood for a good bite of Mexican food while in London, you could do (much) worse than Chilango. Chilango is a small chain of Mexican fast food places dotted around London, with branches in Islington on Upper Street, and the City on Fleet Street.
Chilango offers up the standard Mexican options of tacos and burritos, some salads, and Mexican beers. They're stocking Modelo Negra, my favorite beer. As a bonus, their sodas are bottomless, which is somewhat unique in London.
Stopping by the other night, my Burrito was a somewhat reasonable £5.90 and the bottle of Modelo Negra another £3.50. Not a great price, but hardly extortionate either. In fact, pretty good for what really is a good bit of Mexican food, and up to the standards set by Chipotle Mexican Grill in the U.S.
Advertisements:



Overall, good food at moderate prices. Definitely a breath of fresh air compared to the sandwich shops and boring greasy spoons this price point competes with.
You should follow me on twitter here.