Alsace travel guide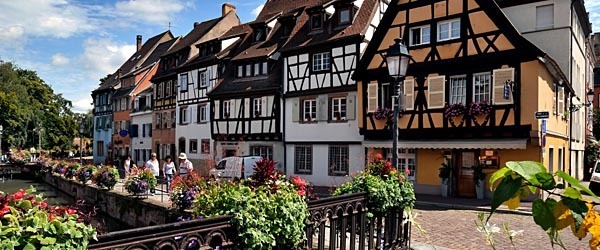 Alsace, France is the fifth smallest of 27 regions of France and the smallest metropolitan area. The departement lies on the French German border and is the east-most of France. It is densely populated and famous for its high number of beautiful and picturesque villages, churches and castles. The climate is cold and dry in winter and hot summers. It is the second driest city in France with an annual precipitation of only 550mm (20 inches). This lack of rain makes the area perfect for Alsatian wine production.
The cuisine of this area is based strongly on German culinary traditions and uses a lot of pork in various forms. Alsace makes some of the world's most dry Rieslings wine and the only region in France to produce varietal wines whish identified by the names of the grapes that are used. The most famous is from German grapes and called Gewurztraminer.
The habitat of the Alsatian lowland is similar to the other regions of Northern Europe and have homes constructed with walls in timber framing with cob and roofing flat tiles.
Alsace is a mixture of lowlands and hills, ideal for outdoor sports in summer. You can enjoy mountain actives, go cycling or mountain biking on its 2,000km (1,243 miles) of cycle trails. Hiking and horseback riding are also popular activities in this area.Many great golf courses are also available to the golfer. If you want to get your feet off the ground you can try hang gliding, paragliding or parachuting. Ideal for families is the different wildlife parks.
Night life can mean a visit to one of the many shows at the theaters and concert halls around the area. If the theater is not to your liking and you want to try your luck visit one of Alsace's casinos or the cabaret.
The region may be small in size but it is big in things to do for the visitor.
Photo by frankartculinary on flickr