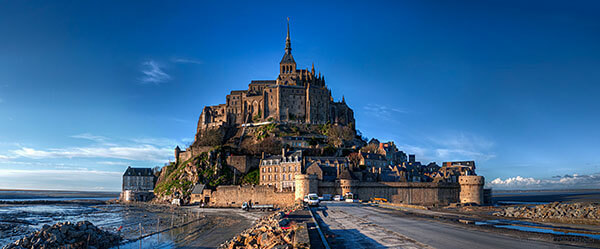 The North of France is a great destination for a relaxed break, with a peaceful countryside au contraire to its lively and often bloody history.  There is a great deal to discover, and with a little research you will be fascinated by what this nation has been through. Such epic tales of the D Day landings at the Battle of Normandy, and the 1066 Battle of Hastings led by Duke William II of Normandy, famous for the British king Harold being killed by an arrow through the eye!
Anyhow today this region is a fantastic place to take a break; I have narrowed it down to 3 of the most picturesque destinations:
Mont Saint-Michel
This is one of France's most distinctive and recognisable landmarks, and an absolutely incredible sight to behold. A fairy-tale like cluster of ancient ornate buildings, which appear almost crystallised, like some kind of other worldly craft that was frozen in time, caught blasting like a rocket out of the water. It could almost be mistaken for a giant castle, when it is in fact an entire medieval village.
This magical spot started its inhabited life as a monastery many moons ago before 1000AD. Strategically placed on its own island just off the shore, it is only reachable when the tide is out. Being located in Normandy, after 1066, having conquered Britain, it was under the control of William the Conqueror. Otherwise known as Duke William II, the same man responsible for the arrow that killed the British King Harold in Hastings.
Advertisements:



Inside the Mont Saint-Michel you will find medieval tight winding streets amongst the tall buildings. If you walk to the summit you will be rewarded with an incredible view of the French coast and the vast English Channel. This is a living piece of history. Walking within its walls evokes an array of pictures, of times long gone by.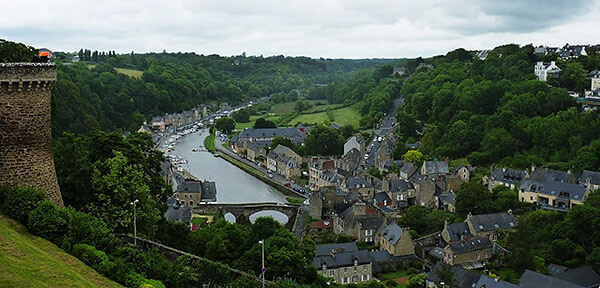 Dinan
Dinan is a picturesque village set beside the River Rance. The architecture is typically medieval French, dating back to the 13h century; lots of wooden beams sagging with age, overhanging one another, of which in between old plaster hosts an array of pastel colours.
The whole town is surrounded by a medieval wall, still standing and parts of which you can still walk on. The town itself is mainly developed up a steep hill beside the river, and again the view you are rewarded with makes the challenging walk more than worth it.
You can even hire your own boat with either a paddle or engine, and sail on down the river.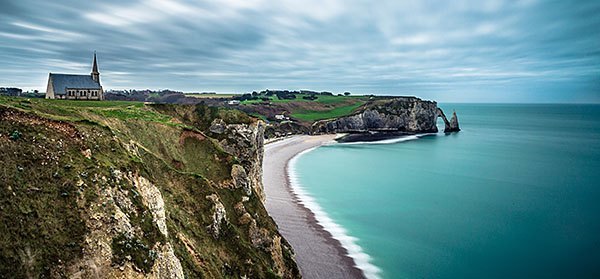 Falaise d'Etretat
An incredible dramatic coastline, blessed with many rocky coves, and the distinctive natural stone bridge which looks like a huge pale stony arm reaching deep down into the sea. It is a great place to take a picnic and spend the day hiking amidst the various illustrious bays, which have been influential to such artists as Monet and Boudoin.
Against this spectacular backdrop, you can choose to try a choice of watersports such as kayaking, wind or kite surfing. There are options for complete beginners t seasoned pros.
The whole of Northern France has a vast array of unforgettable experiences to offer, and once you scratch the surface, you will undoubtedly want to come back for more! 
Oh, and bring an extra memory card for your camera. You'll need it!
Photos by Yann Pinczon du Sel (1), Martine (2), and Corentin Foucaut (3) on flickr
You should follow me on twitter here.