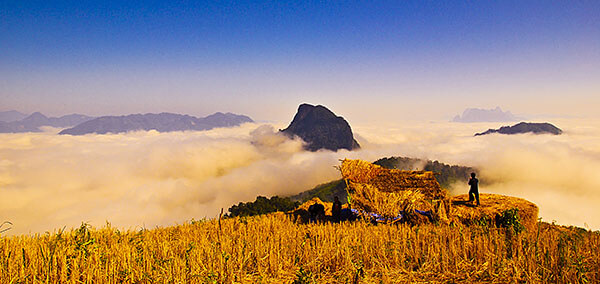 Most people when travelling around South-East Asia go to Thailand, Vietnam and even Cambodia... but quite a few miss out Laos! After exploring this beautiful country and all the amazing things it had to offer, it definitely needs to be a must if you're visiting Asia!
Below is a list if great places to see whilst in Laos that will only leave you wanting to go back, again and again!
Vientiane
Vientiane the capital of Laos is one of the most interesting and beautiful cities in South East Asia. With its old French colonial past, it has a bizarre marriage of Parisian architecture whilst still firmly grasping its traditional Buddhist roots.
The national monument and symbol of Laos is also located in Vientiane the 'Pha That Luang', which is a massive golden stupa. The Pha That Luang is decorated in lots of Buddhist iconography and is surrounded by hundreds of golden speared posts. A beautiful place to take in the sunset.

Hiring a bike is one of the best ways and cheapest ways to get around the city, and there is also a great cycle path all along the Mekong River side.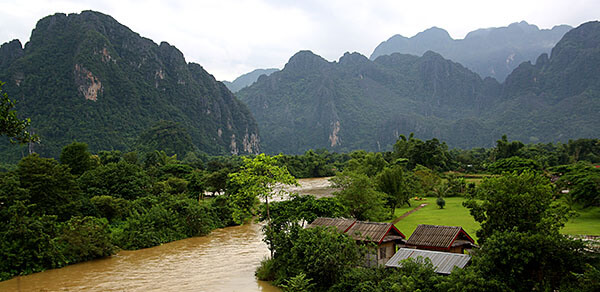 Vang Vieng
A stunning example if the wild, untamed beauty of Laos's beautiful countryside. Rolling green valleys, covered in natural forests where a whole wealth of wildlife can be spotted with a trip down the river. The town is a party destination as well, and is located in the Vientiane province, so an easy trip from the capital.
Also sipping a on a 'Beer Lao' whilst floating down the Mekong River is a favourite past time of both locals and travellers alike… known as 'tubing'!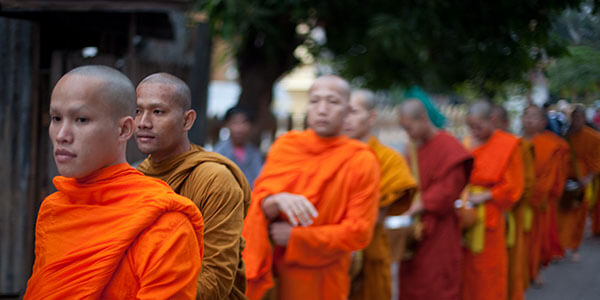 Luang Prabang
Advertisements:



Formerly the capital of Laos, Luang Prabang is also presently a UNESCO World Heritage City. Luang Prabang is surrounded by lots of unspoilt countryside and waterfalls, together with many amazing examples of colonial French/Buddhist architecture in the form of temples and monuments.

Many of the temples play host to events such as 'Monk Chat' which gives tourists a chance to ask the Buddhist monks questions about their lives and religion and also the opportunity for the monks to practice their English too. Please remember to dress appropriately when visiting any of the temples in Laos and women should not address or approach monks until advised to.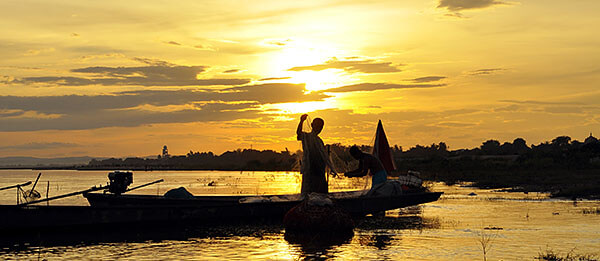 4000 Islands
Not literally 4000 inhabitable islands... but two very beautiful ones! Don Det and Don Kong are both secluded paradises set right in the midst of the mighty Mekong River. The islands are ideal places for trekking, canoeing and mountain-biking. Also it is one of the only place you can chance a glimpse at the endangered brown nose dolphins that live in the waters that separates Laos and Cambodia.

Better still, Don Det is the perfect place to swing in a hammock for a few days and stare out over the beautiful views of the Mekong… often labelled the place backpackers come 'From a holiday away from travelling'!
Bolaven Plateau
An immensely beautiful mountainous region which is where the majority of Laos's very distinctive coffee beans are grown. Highly recommended for motorbike trekking due to it's sweeping quiet country roads and great off road tracks. There are so many waterfalls to see here and lots of coffee plantation to browse around. Plus it is one of coolest places in South East Asia due to its high altitude, which is the perfect escape if the heat is getting too much for you.
As Laos isn't always on the usual tourist trail there are many new and exciting things to be discovered about this amazing country. Unlike the other Asian nations, you will be able to see and meet more local people and gain a more accurate snap shot of their daily lives.
You should follow me on twitter here.