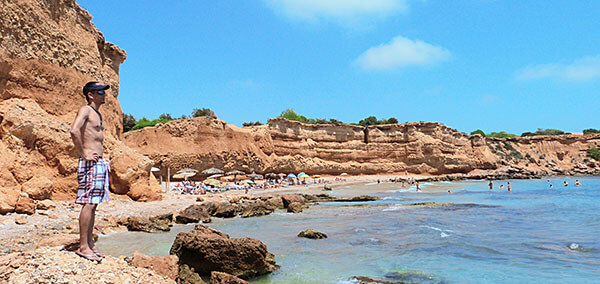 If watching the sun sparkle like sapphires off the sea as your toes warm in the white sand, a cool drink in your hand and gorgeous red cliffs enveloping you, then Playa Sa Caleta is calling your name. This lovely beach on the island of Menorca is well known for its beautiful coves, cliffs and tantalizing blue green shallow water. The views are breathtaking and the beach is snuggly nestled in a comforting cove that will relax you the second you lay eyes on it.
Menorca is part of the Balearic Islands located off Spain's eastern coast. It has the unique quality of filling the quiet "get away from it all" need as well as the "let's party" spirit. Enjoy a delicious lunch at Sa Caleta Beach Restaurant, which boasts a causal, laid back atmosphere and has the best seafood on the island. From its location atop the cliff you get an awesome view of the cove. If the sea starts calling you back, no problem, you can take your food with and walk down to the beach and enjoy.
For those of you who want to play, scuba diving and snorkeling will reveal untold scenery even for the most experienced. Book an excursion to one of the close by resorts or towns, or if landing the big one is your dream then take a fishing trip guided by the islands best. If you come in the spring, take a bicycle trip around the different paths on the island when all the plants and flowers are in full reverie. A particularly gorgeous path takes you to Cala'n Bosc, a lovely little city where you can spend the afternoon exploring. The nightlife is dictated by your wants and needs. Sa Caleta has many hotel bars to quench that thirst but if clubbing is what you want then take a quick ride to Ciutadella.
So whether you want a relaxing vacation, an adventure or both, Playa Sa Caleta on Menorca Island brings you the best of both worlds.
Advertisements:



Photo by Looiz on flickr
You should follow me on twitter here.