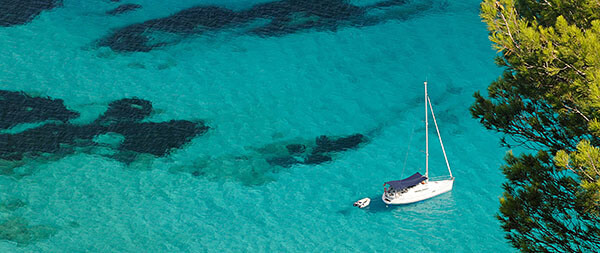 Ibiza is a beautiful island located off the coast from Valencia in Spain. While this picturesque tourist destination is known for its rich nightlife, especially in Ibiza Town, it is also the perfect place to take a vacation with your family. Whether your family are outdoor enthusiasts, into culture and art or would love to explore the rich heritage of this Spanish island, then an Ibiza vacation is a perfect destination. There are plenty budget friendly and family oriented attractions to entertain every member of your family.
Aguamar Water Park
Who wants to lay around on a beach all day when you can slip and slide your day away on thrilling and fun water rides? Aguamar Water Park is located in Playa d'en Bossa, which is a 15-minute drive from Ibiza Town. It is the largest, and arguably most exciting, water park on the island. Families with younger children can take advantage of the water play area that's designed especially for them. There are water slides that range from slow to super fast and a lake area that's perfect for relaxing under the shade or sun bathing. You can pack your own lunch and eat at one of the many picnic benches located around the facility or eat at one of the restaurants on site. Aquamar Water park is not open year round. It is only open from May to the end of September.
Cycling
Due to Ibiza's beautiful and natural scenery, spending a day exploring the roads, mountains and quaint villages makes this the perfect excursion for the entire family. You are only limited by how deeply your appetite for adventure reaches. If you feel comfortable, rent mountain bikes and go on a self-guided ride. There are plenty of signs posted along the bike route for anyone who wants to ride without a trail guide. You can also pay for an organized tour. Guided tours are offered to groups as well as individuals. There are cycling routes for people of all riding levels ranging from easy to difficult. The spring and autumn seasons are the best time of year to cycle because the weather is most pleasant during this time.
Monuments, museums and more
The island of Ibiza is so rich in historical, archaeological and artistic heritage. Taking a few days to explore all that this island has to offer will help everyone appreciate the rustic beauty of this island. Sa Caleta is an excellent place to start. This cultural site houses the remains of the first Phoenician settlement. There are a lot of religious and contemporary art featured throughout many of the island's museums. Museo de Arte Contemporáneo de Ibiza is a contemporary art museum that features not only well-known artists such as Miralles and Tapies, but artwork from artists, residents and natives of the island who are not as well known. Lastly, the Dalt Vila Renaissance walls is a famous monument that's located in Eivissa. Explore the vastness of the military architecture that was built during the 16th century as a form of protection.
Advertisements:



The perfect Ibiza holiday, provided by Thomson, is about really experiencing all that this amazing island has to offer with your family. Whether you're spending the day cycling, or visiting historical sites, make certain you capture those special moments so that they will last a lifetime.
Photo by christophandre on flickr
You should follow me on twitter here.