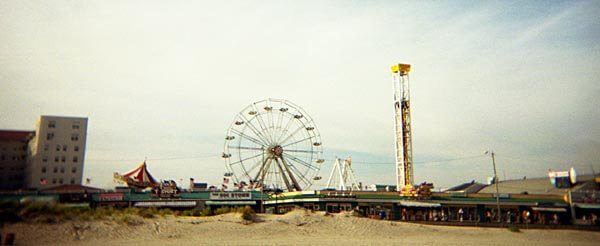 Ocean City, New Jersey is located in the county of Cape May along the coast of the Atlantic Ocean. Ocean City is known for being a family oriented resort town. It is clean and has a wonderful 2.5 mile boardwalk. It also has a charming downtown shopping area.
The Boardwalk is the main attraction in the city and has thousands of visitors every year, from all over the world. The main tourist season in May through October and the family fun on the boardwalk is endless in the ocean breezes and the view of the ocean is beautiful.
The boardwalk will provide room for you exercise by just walking the full length of it. If shopping is your thing and you need resort wear, jewelry or anything else you can imaging you can find it there. Homemade fudge is popular along with the antique shops.
Children of all ages will love the latest thrill rides, go karts, water parks and movie theaters located here, as well as high-tech arcades. You can play a round of mini gold in the fantasy island adventure theme park with the pirate folklore. Do not miss Gillian's Wonderland Pier or the Playland's Castaway Cove on the boardwalk either. Both of these amusement parks have fun rides and lots of exciting activates to keep everyone in the family happy.
Advertisements:



Night time entertainment includes a "Family Night", which is every Thursday in July and August when the entertainment is free. You can hear classic, pop, and oldies bands. You can listen to strolling barbershop quartets or sing karaoke. There is face painting, yo-yo demonstrations and magicians to enjoy. Don't look for any cocktail lounges or clubs though that serve alcohol because it is against the law in Ocean City to serve alcohol and has been since the city was born. The city is dry, and it's one of the things making this such a family friendly destination.
In spring and fall there is a "Family Fest" held on the boardwalk. They also have an Annual Auto Show where you can pick out your new car. On various weekends there is a city wide yard sale held on the board walk also.
The Ocean City boardwalk definitely has something for everyone through the year.
Photo by MikeWebkist on flickr
You should follow me on twitter here.