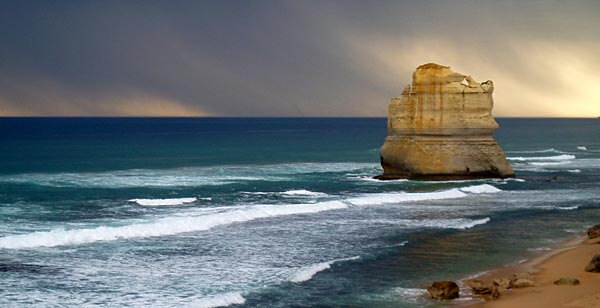 On your trip "down under" make sure you visit the Great Ocean Road in Melbourne, Australia. The road runs from Torquay to Apollos Bay as it travels alone the coastline. Every bend and turn in the road leads to a spectacular view. It rolls through 250 km (about 154 miles) of twists and turns of touring roads. It shows the beauty of the Australian southern coast. On the opposite side of the coast is the Otway Ranges with its lush green fields. The plan for the road starts at the end of WW1 and put many service to work when they came home. The Great Ocean Road has not been without problems such as being partial washed away with heavy rains and landslides. In 1962 it was deemed by the Tourist Development Authority to be the most scenic road in Australia.
Advertisements:



The road starts in Torquay on the western border of Victoria which is home to surfing and snakes.
Along the Great Ocean Road, you will come upon one of the most famous landmarks in Australia at Port Campbell. The landmark is known as the Twelve Apostles, great stone pillars that rise over the waves.
As you travel west you will see the forest of the rugged Otway Ranges and the whole Great Otway National Park, the scenery is breathtaking. Make sure to see the rock formations of the Thunder Cave, Blowhole, and the Rock Arch.
The Great Ocean Road and the area that you are traveling through becomes very busy during the summer months. There are many holiday (vacation) homes and camp grounds available. There are beaches, surfing, fishing, dining and lots of entertainment along the coast line.
Remember when planning your trip to Australia that it is in the southern hemisphere and their summer is our winter. Also keep in mind if you are doing your own driving they drive on the left side of the road and the steering wheel is on the right side of the car.
It is a wonderful trip and a great scenic driving experience.
Photo by nadi0 on flickr
You should follow me on twitter here.