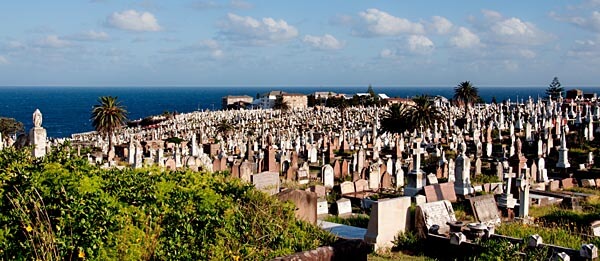 The Waverley Cemetery is a one-of-a-kind destination in Australia's Sydney suburbs. It is located in a beautiful location along the coast atop of some cliffs, overlooking the sea and the surrounding areas. Visitors wishing to stumble upon the graves of the rich and famous will not be disappointed in their visit. Indeed, many famous Australians are buried here including Sir Edmund Barton, who was the first Prime Minister of Australia, and poets Henry Lawson, Dorthea Mackellar and Henry Kendell. Athletes like Olympic Swimmer Fanny Durack are also buried there. There is also an impressive war memorial on site.
Those more into architecture than the rich and famous will no doubt be impressed by the many well-preserved Edwardian and Victorian monuments scattered throughout the cemetery. Stone masonry from the 19th century is also showcased at the cemetery. The cemetery was first opened in 1877 and still continues to grow to this day. It is completely self-founded and free for the public to visit (donations are accepted). The cemetery is large at 41 acres in size.
Visitors who are interested in film and media will be very impressed to learn about the many media appearances the Waverley Cemetery has made. It was first featured in the movie, The Pajama Girl Case, in 1977. In 1979 it was featured in the movie Tim, which starred famous Australian actor Mel Gibson. It was also used for filming of the movies Dirty Deeds and Dil Chahta Hai. However, besides film, the cemetery has also been used for TV shows such as an Australian long-length episode of Baywatch and the Australian television series Home and Away.
Waverley Cemetery location
Advertisements:



Waverley Cemetery
St Thomas Street
Bronte NSW 2024
Photo by Darius Darkly on flickr
You should follow me on twitter here.