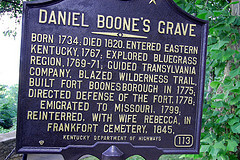 Every year tourists travel to Frankfort, Kentucky, west of Lexington, and to the Frankfort Cemetery, to pay their respects at the final resting place of Daniel and Rebecca Boone. This famous, trail blazing, frontiersman is well known for his association with Kentucky, however, he actually died near Marthasville, Missouri, where some claim he is still buried. Both states may very well be right, since it seems that at least some of his remains were taken to Kentucky for re-burial in the Frankfort cemetery located at 215 E. Main St.
The view from his gravesite which overlooks the Kentucky River and most of the city, is outstanding, and so are the reliefs that are carved on each face of the Boone grave marker. This is a very historic cemetery, which also contains the graves of several governors and one Vice President, Richard Mentor Johnson of the Van Buren Presidency.
Frankfort and Lexington are both well known for many other interesting features, such as bourbon, horses, and beautiful scenery. Nature lovers will enjoy the Salato Wildlife Center and the Buckley Wildlife Sanctuary near Frankfort, and for the history buffs, there is the Kentucky History Center, and the Thomas D. Clark Center for Kentucky History. This area is particulary scenic, and whether taking in the sites of the city, or fishing or canoeing on the river, there is something for everyone in this lovely part of the state.
The gravesite of Daniel and Rebecca Boone location
Advertisements:



The gravesite of Daniel and Rebecca Boone
Frankfort Cemetery
215 E. Main St.
Frankfort
Kentucky, USA
Photo by j_m_wetherington on flickr
You should follow me on twitter here.