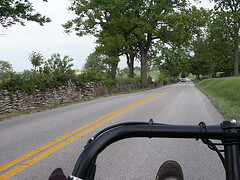 If you are looking for a scenic drive in the Kentucky area, the Old Frankfort Pike byway is one of the best. There are many beautiful things to admire along the drive, from the beautiful plants and trees to many farms full of thoroughbred horses. There are also many sites to check out along the way, including limestone rock walls and many historic buildings.
One of the best times to view the Old Frankfort Pike byway is during the spring. It is the perfect season to catch the dogwood and redbud along the trip in full bloom. No matter what season you decide to make the drive during, there will be many lovely things to appreciate along the way. This scenic road is also one that's enjoyable on a bike, or a recumbent bicycle like in the photo above. Watch out for traffic though, as it can be heavy at times.
Advertisements:



Photo by Mark Stosberg on flickr
You should follow me on twitter here.