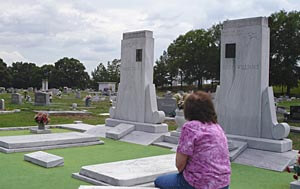 Hank Williams, the legendary country music star was born Hiram King Williams in North Alabama, The singer passed away at age 29, in an untimely death in Montgomery, Alabama. Oakwood Cemetery is the final resting place of this country music great, where the entrance to this historic cemetery is marked with a commemorative Stone. The cemetery itself is one of the oldest in the USA and has plenty of historic interest besides Hank Williams grave.
The grounds feature large shady, moss-covered trees, and hank's grave is located in the Annex. The gravesite, which was not his original resting place, has two marble monuments to Hank and his wife Audrey, and a marble replica of his signature cowboy hat, and two marble benches. Late nights, it is said that locals will go to this spot and have a shot of whiskey in Hank's honor.
Advertisements:



Guided tours of Oakwood Cemetery and Hanks grave are available, and the Halloween tour is not to be missed. The Hank Williams Museum on 118 Commerce Street in historic downtown Montgomery celebrates the life and music of Alabama's legend. Features the most complete collection of memorabilia, such as black and white photos, Hank's leather saddle, and the infamous 1952 Cadillac where Hank tragically passed away.
The proprietor of the museum narrates with colorful stories of Hank's life and times. Every September 3rd, they even have a rollicking birthday celebration in honor of Hank, and the gift shop is always open for classic hits. For those that have a little time, the stretch of I-65-S from the city of his home Georgiana, to Montgomery, Alabama, which is named the Lost Highway in honor of Hank Williams, which features moss-tree covered marshes and the River of which Hank sang.
Hank Williams Astroturf Grave location
Hank Williams Grave
Oakwood Cemetery
829 Columbus Street
Montgomery Alabama
Photo by sockmonkey59 on flickr
You should follow me on twitter here.