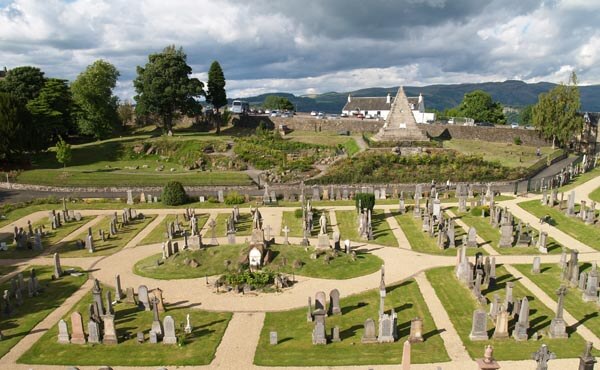 When in Scotland next time make sure to go to Stirling, Scotland. The town is clustered around a large fortress and medieval town next to the River Forth. While in Stirling a must see is the Old Town Cemeteries which is not an ordinary graveyard by any means. It was laid out in the 1850's. The poet William Wordsworth wrote "we know of no sweeter cemetery in all of our wanderings than that of Stirling".
Old Town Cemetery is at the Top of the Town in Stirling. Around the cemetery you will find the Esplanade of Stirling Castle. The panoramic views from the cemetery across the River Forth are spectacular and from the Ladies' Rock where the women of the court used to admire their knights prowess in tournament held below in the valley. This is an outstanding scenic, cultural, historic and architectural historic site which contains wonderful examples of works of art.
One section of the cemetery where local merchants and craftsmen are buried, the tombs have etching of the tools of their trade on the marker.
There are many monuments and carvings to enjoy while strolling through the grounds including Marty's Monument, Sconce Stone, Service Stone, The Ladies Rock, Star pyramid and Statues of the reformer William Drummond.
Yes, Old Town Cemetery in Stirling is a unique experience which will be long remembered by all who visit there so make sure it is on your next itinerary when visiting Scotland.
Old Town Cemeteries address
Old Town Cemeteries
Top of the Town
Stirling, Scotland
The cemetery is open daily and there is no admission charged.
Advertisements:



Photo by Steve's Wildlife on flickr
You should follow me on twitter here.