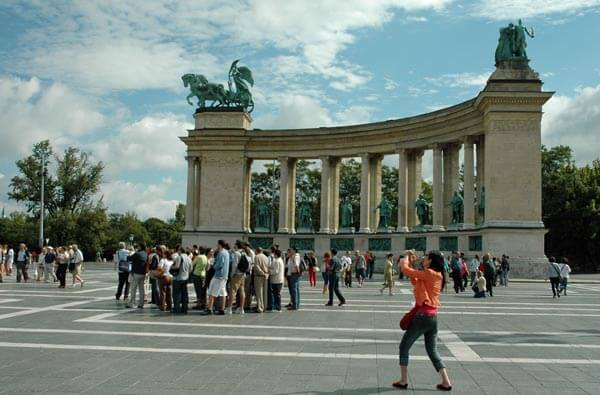 When in Budapest, the capital city of Hungary, you will be amazed by the picturesque Danube riviera, as well as the monuments that testify for the wealth of its historical and cultural heritage. One such place that the tourists visit is "Hosok Tere" (meaning 'Heroes' Square'). It is among the most important, well-renowned squares in historical downtown of Budapest and it is famous for hosting the Millennium Monument. The surrounding buildings are the Museum of Fine Arts and the Palace of Arts. This Budapest landmark is a Memorial with an anti-communist connotation, since it was chosen in 1989 for the symbolic reburial of resistance figure Imre Nagy.
This symbolic monumental sculpture consists of two twin colonnades in a semi-circular arcade, each displaying seven key figures of the Hungarian history, beginning with the nation's legendary founder, Arpad and continuing with more recent rulers and sovereigns from the Habsburg dynasty. As stated on the front cenotaph, the memory is dedicated to the memory of the heroes who sacrificed their lives for the Hungarian nation's independence. Four allegorical figures board the colonnades: on the left, a man with a scythe (symbolizing Labor) and a woman sowing seeds (Prosperity), while on the right it depicts a man holding a statue (Knowledge) and a woman holding a fern leaf (statuary image of Glory).
The monument is topped by an awe-inspiring statue of the patron saint, archangel Gabriel, holding in his right hand the Crown of King Stephen (Istvan), the first king of Hungary. Saint Gabriel holds the apostolic double cross in his left hand as a tribute to the Pope's efforts to convert Hungary to Christianity. In your sightseeing tour, you can reach the monument on M1 yellow subway line, Millennium Underground station. At night its distinctively high silhouette is visible through an impressive fountain of lights.
Millennium Monument location
Millennium Monument
1146 Hősök tere
Budapest
Hungary
Advertisements:



Photo by Mr G's Travels on flickr
You should follow me on twitter here.