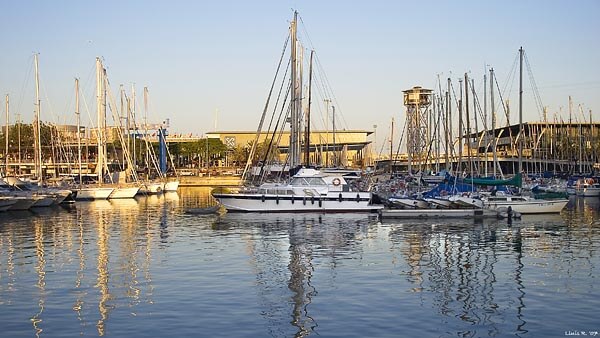 Port Vell, is a waterfront harbor in Barcelona, Spain, and a beautiful vacation sight. The name itself means "Old Harbour". The harbor is relatively new and was built during the urban renewal program before the 1992 Barcelona Olympics. It is now transformed into a yacht basin and entertainment center, giving access of the city to the sea. The coastal road was moved underground a now there is a pedestrian walkway in its place. When on the walk way you will see the swing bridge that allows ships into and out of the harbor.
Port Vell is now a highlight of the city and attracts many tourists with its Maremagum. The Maremagum has a small mall with shops, multiplex cinema, bars, restaurants, and IMAX. The IMAX has three projection systems even one with 3D IMAX for which the viewers use 3D glasses.
A very interesting aquarium is also at Port Vell. It is the largest in Europe and contains 8,000 fish and 11 sharks in 22 basins. The aquarium holds 1.5 million gallons of sea water. Port Vell is also home to the Museum of History of Catalunya.
There a multitude of hotels available for you near the harbor and many fine restaurants to enjoy both at Port Vell and in the city. Just a short stroll from Port Vell is the Christopher Columbus monument and Rambla, one of the most famous streets in Barcelona.
Visiting Port Vell is a relaxing and enjoyable experience for everyone to enjoy.
Port Vell location and hours
Port Vell
Olympic Port
Barcelona
Spain
Opens early and stays open very late Monday through Sunday.
Advertisements:



Photo by lluisribes on flickr
You should follow me on twitter here.