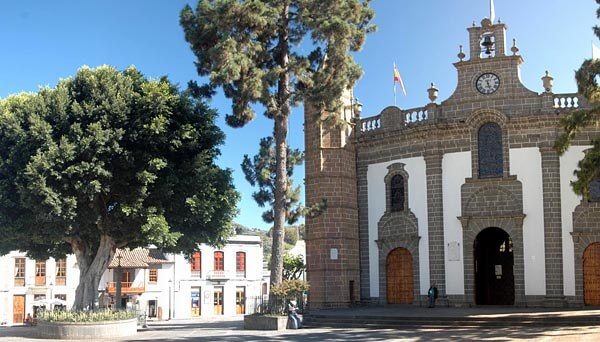 When you visit Teror, Gran Canaria, you will be joining the throngs of the Gran Canaria residents, for whom Villa Mariana de Teror, or more specifically, the Basilica and its statue of the Virgen del Pino, is a destination for pilgrimage. According to tradition, the Virgin appeared to residents in the 15th century, elevating Teror to the status of other Catholic holy places. The Virgen del Pino is the patron saint of the diocese of the Canary Islands which means the Basilica, then, is one of the most important sights in all of Teror.
Advertisements:



Construction of the Basilica itself was started in 1767, and it remains much the same today, with only several renovations and restorations being done throughout the building's nearly 250-year history. The stone building boasts beautiful stained glass windows depicting the Mysteries of the Rosary, and lavish gilding and other ornamentation throughout, but the centerpiece of the Basilica is the statue of Nuestra Senora del Pino, which can be found behind the altar. Both the Basilica's beauty and historical significance in the community of Teror make the Basilica de la Virgen del Pino a can't miss travel destination.
Basílica de Nuestra Señora del Pino address and hours
Basílica de Nuestra Señora del Pino
Plaza de Nuestra Señora del Pino
Teror
Gran Canaria 35330 - Las Palmas
| | | |
| --- | --- | --- |
| Monday |   | 13:00 - 20:00 |
| Tue to Fri |   | 09:00 - 13:00 / 15:00 - 20:00 |
| Saturday |   | 09:00 - 20:30 |
| Sunday |   | 07:30 - 19:30 |
Photo by David Cushing on flickr
You should follow me on twitter here.