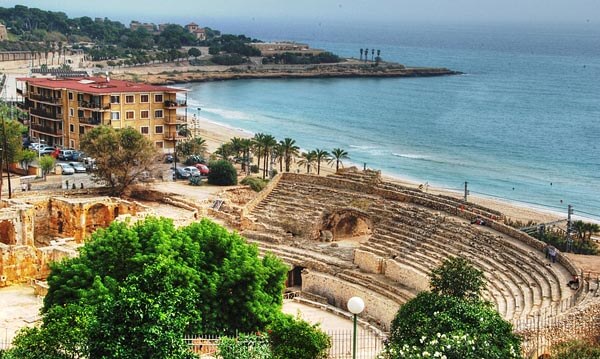 The Roman Amphitheater, located just beyond Barcelona in Tarragona, Spain, is a destination worth visiting. Although what you as the visitor will be walking through are now considered ruins, it is still an impressive sight and a reminder of a different era. It serves as an open air monument that celebrates the past. The Amphitheater was built around the 2nd century AD (over 1,800 years ago) and is massive in size at about 102 meters by 130 meters, especially impressive when considering it was entirely built by hand. It originally held between 13,000 and 15,000 people. The Amphitheater has now been reconstructed as much as possible to its original state (though it is still a ruin) for visitors to see.
Advertisements:



When you visit the Roman Amphitheater you are walking in the steps of history. It was where many people who had been sentenced to death were executed. Bishop Fruchuosus and his two Deacons were martyred at the Amphitheater by being burned alive in front of a large audience! Gladiators would use the Roman Amphitheater to fight each other and the wild animals that would be brought in for the event.
It could also be filled with water from the sea for the purpose of holding mock boat battles. Once Christianity became popular in the region the Amphitheater was no longer being used and a Visigoth basilica and later a Roman church were built on the property. But today those have been removed and the Roman Amphitheater has been restored for you to see.
Roman Amphitheater of Tarragona location and hours
Tarragona Amphitheater
Passeig Palmeres, S/N
43003 Tarragona, Spain
Open Mon-Sat 9am-6pm
Bus: Rambla Vella
Photo by cognitive.evolution on flickr
You should follow me on twitter here.