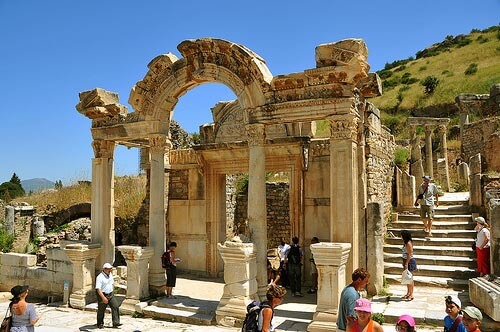 The ancient city of Ephesus is located in western Turkey. It is an incredibly famous place with a wealth of history to explore. When you visit this popular location, you will be truly taken back to reflect on the lives and cultures of the many peoples that have inhabited this place throughout the centuries. Ephesus is not far from Izmir and the nearest town is Selcuk.
The area has been inhabited since the Neolithic Age but it was not until 10BC that the city was established by Androclos and it has since been the home of people from many cultures including Christians and Romans. It has an incredibly colorful past. Now, the city is easily accessible and it is possible to see the well preserved architecture and artifacts from the many ages. You will be fascinated by the excavations that have uncovered a history spanning around 5,000 years.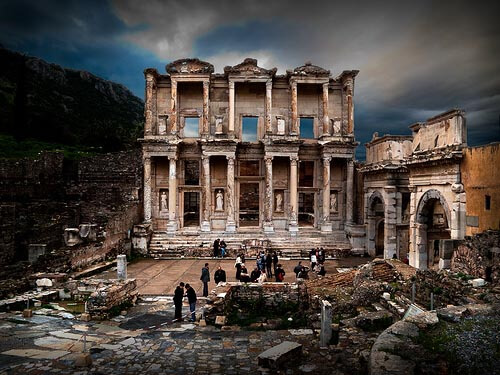 So what are the main things to look at whilst you are at Ephesus? The Odeon is one of the most impressive sights. This is a theatre that has a stage and seats for 1500 people. It was used both for concerts and for meetings. Also you can look at the remains of the Temple of Domitian, which was the dedicated to this emperor, and you can still see the stairs standing today. Other sights that will be of main interest are Curetes Street, which you can walk up and see the remains of shops, statues, fountains and monuments, and also the fountain of Trajan, which is one of the best monuments in the city. There is however so much to see that as you walk around you are sure to find your own favorites.
Advertisements:



In all, Ephusus has a huge amount to offer. Allow plenty of time for your visit as you will not want to rush away.
Photo by Veyis Polat (1) and lorca56 (2) on flickr
You should follow me on twitter here.