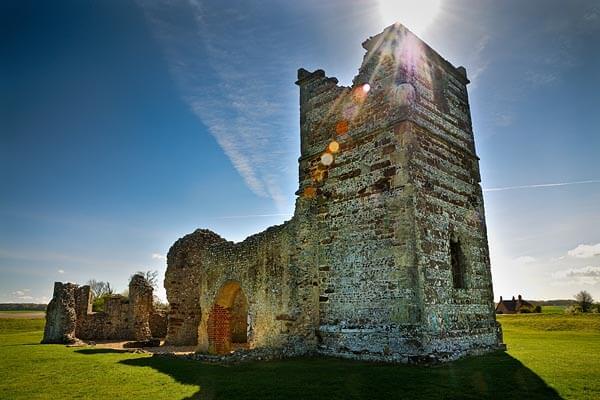 On a lonely stretch of road in Dorset, in the southwestern coast of England, the intrepid traveler will come upon a peculiar and intriguing site: the lovely ruins of an ancient stone church, surrounded by an even more ancient fixture: An earthwork ring, called a henge, wrapped protectively around the church. This is Knowlton Church.
A visit to Knowlton Church offers a fascinating glimpse of two societies long gone. The henge itself was probably created around 2,500 B.C., and may have been intended for ceremonial use. It's one of a series of earthworks and barrows (burial mounds) in the immediate region and calls to mind the more famous henge, made of standing stones, a bit to the north near Salisbury. Both these ancient monuments call to mind the neolithic inhabitants of this region. You'll swear you can almost sense their presence as you scramble to the top of them to check out the surrounding farm land.
Advertisements:



The church itself is a Norman ruin, built in the 12th century. You'll want to wander through the well-maintained , roofless, interior, where you'll marvel at the quality of the stonework that has held up for hundreds of years. The church and the surrounding site offer numerous possibilities for the photographer.
This is a very worthwhile diversion for anyone who happens to find themselves in the south of England. The site is maintained by English Heritage, which, delightfully, lists the times of operation for the site as "any reasonable time" on their website.
Knowlton Church location and hours
Knowlton Church and earthworks
SW of Cranborne on B3078
The church ruins are open to visit at reasonable hours.
Admission is free, and you may find yourself the only visitors at this out-of-the-way but enchanting site.
Photo by trekker308 on flickr
You should follow me on twitter here.