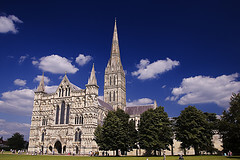 The magnificent Salisbury Cathedral has stood for over 750 years and is one of the best examples of medieval cathedral construction in England. Whether you visit to worship or are a tourist, a trip to the cathedral is a fantastic experience if you are in the Salisbury area.
Advertisements:



Be sure to take a camera as the cathedral is one of the most beautiful buildings in England and remains as it was originally intended with very little reconstruction or additions. The grounds surrounding provide a great view of the cathedral and a walk around these is a relaxing and peaceful way to start a visit.
Inside the building itself there are many things to do and see. The Cathedral boasts the tallest spire in England and a climb to the top of this will provide some beautiful views of the surrounding area and another chance to use your camera. The Cathedral interior is magnificent and attractions to be viewed include the oldest working clock in the world, some beautiful sculptural details and the stunning cathedral roof.
Photo by Joe Dunckley on flickr
You should follow me on twitter here.