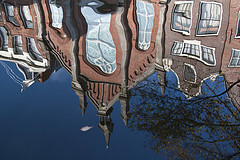 Many things come to mind when a traveler thinks about Amsterdam, the open culture, the canals and winding narrow roads. Often this also includes bright lights and big city expectations. While its true these are a part of Amsterdam, there is a neighborhood that is tucked away that offers a refreshing break from all of the rush and flash of the metropolitan lifestyle Amsterdam offers. It is the Jordaan district located on the eastern edge of the city. Here life moves at a slower pace and things are bit more homey feeling. A quiet stroll through its winding streets can ease the nerves and often bring about an unexpected surprise or two on what you find in one of the many tiny shops that fill the neighborhood.
Advertisements:



Originally built in the 17th century to house the largely poor migrant workforce, the Jordaan district until quite recently had little if nothing to offer a visitor to the city. In fact, in the 1970s there was serious consideration given to leveling the area and starting over. Instead a miracle of sorts happened, once crime ridden streets and homes were slowly taken over by the arts community who were looking for a place that offered low rent and quiet workspace. Over the next few decades the area continued to develop and now is a popular area for tourists and locals alike to visit and enjoy. The arts scene is still quite prevalent and who knows you might be lucky enough to buy a piece from a starving artist who later goes on to be famous just as Rembrandt did after his time in the slums of the district in the 17th century.
Photo by Jaap de Wit on flickr
You should follow me on twitter here.