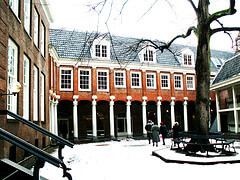 Amsterdam has more than fifty museums. Some of them, like the Rijksmuseum, are very famous the world over and attract millions of visitors every year. There are however, other quaint and equally interesting museums that are worth visiting. The Amsterdam Historical Museum provides you with an insight into this old city, its people and the way they have lived over the centuries. You can see for yourself how the city grew from a small medieval town in the 15th century to become the enormous, bustling, city of international fame that it is today.
Advertisements:



The Amsterdam Historical museum, or Amsterdams Historich Museum as the locals call it, is housed in what was an orphanage in the 15th century. The building was extended in the 17th century. In 1975, the orphanage was turned into a museum to show case the history of Amsterdam. The display consists of paintings, prints, marquettes, archeological finds and other objects. Exhibits are constantly added to the permanent display. In addition to these, there is also a wonderful collection of porcelain and silver.
The main focus of the museum is on the 17th century, the golden age, when the city became very rich form its trade. The museum has clear signs to guide visitors to specific periods in the history of the city. The permanent exhibits are located in the inner courtyards of the museum complex. Visitors may take the grand tour with a multimedia map, or opt for a short tour. Models of ship yards, paintings of church interiors, and a doll house are some notable exhibits.
The museum is located in Kalverstraat 92 and Nwz Voorburgwal 357, just a short walk from the Central Station. It is open every day of the week from10am to 5pm except during weekends when it opens an hour later.
Photo by Molesworth II on flickr
You should follow me on twitter here.