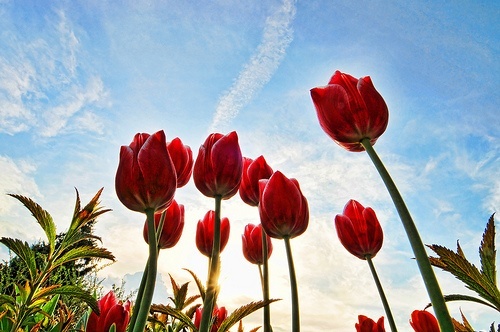 Mention the country of Holland and nine times out of ten most people would associate it with tulips. So it is more than fitting the the Tulip Museum would be located in the heart of Amsterdam. Created in 2004 it aims to celebrate all things tulips. It seems fitting that the museum would be located across the street from Anne Frank's House. The courageous little girl who gave a haunting face to the Holocaust must surely be smiling down at the beauty and fragrance of the delicate bulbs.
The museum is quite small but that lends itself to a more personal, homey feeling. The price of admission is quite reasonable at one euro. Most of the staff speaks English and they are very knowledgeable and eager to help. Before you start the tour take time to view the short video on the history and interesting facts on tulips. If you'd like to know even more about flowers, visit the Bloemenmarkt Flower Market as well, the sellers would be more than happy to share what they know.
Tulips that are bought for exporting out of Holland have to be certified so it is a very good idea to buy from an official source. There are many bulbs available including hyacinth, allium, crocus and muscari. In addition to the bulbs there is a dizzying array of books, posters, postcards, pillows, antique tiles, and purses. Most have the tulip motif emblazoned. Another interesting feature is the magnificent paintings by Judith Leijster. They perfectly complement the motif of the museum.
Advertisements:



So if you are ever in Amsterdam and you only have a couple hours to spare make sure you check out the Tulip museum. Your senses and Anne Frank would be pleased.
Address and hours
Amsterdam Tulip Museum
Prinsengracht 112
1015 EA Amsterdam
Open daily 10am to 6pm
Photo by Tambako the Jaguar on flickr
You should follow me on twitter here.