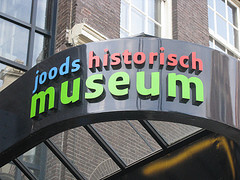 The Jewish History Museum in Amsterdam is located in Nieuwe Amstelstraat quite close to the Rembrandt House Museum and the Hermitage Amsterdam Museum.
This Museum has exhibitions with lots of paintings and sculptures that were originally stolen by the German from Dutch Jewish families during the Second World occupation of this the Netherlands.
Advertisements:



From the dozens of thousands of confiscated art pieces, there are many that come with the label of "unknown origin" as the original owners were killed in the Holocaust or could never be traced after the war.
This museum is instructional and informative and completely ties up with this particular city that has a mixed variety of things to offer for all different kinds of visitors. Some things to do in Amsterdam.
Photo credit: Omer van Kloeten
You should follow me on twitter here.