Scotland travel guide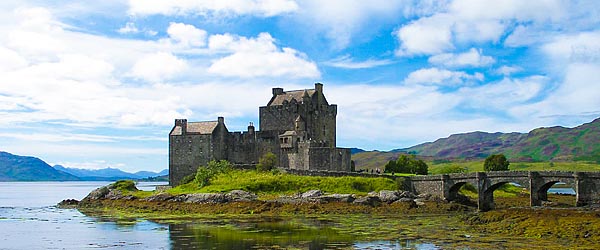 Hearing the word Scotland brings thoughts of bagpipes, Loch Ness, and men wearing skirts instantly to mind. Scotland offers more than this however, and any tourist will be surprised at the bounty that she has.
Scotland offers visitors wide selections of places to visit while on vacation. Scotland not only has it's lowlands but also those famous highlands for which the country is known for. Stepping of the plane one can set off to first visit the capital of Scotland; Edinburgh. In Edinburgh, you can walk along the city streets to arrive at Edinburgh University a world-renowned educational site. Of course, no visit to this city would be complete without a tour of Edinburgh Castle to see Scotland's Royal Jewels. After a castle visit, one can proceed on to the Scottish Parliament building. To complete your sightseeing of Edinburgh a stop by the Scottish Whisky Experience is a warming experience. Here one can sample great Scottish whisky and learn how it is made.
Leaving Edinburgh you can move on to Glasgow, Scotland's largest city. At Glasgow Cathedral, Scotland's oldest medieval church. Later take a stroll down to St. George's Square the city's center point. Or the enchanting Kelvingrove Museum. Still interested in seeing Scotland's major cities?
Then set off for Scotland's thirds largest city Aberdeen. Known as Europe's oil capital, Aberdeen is a beautiful city that has great historical sites. One can visit Dunnottar Castle, where Mel Gibson filmed Hamlet; Marischal College, site of the world largest granite stone building; or the locations most visitors wish to see on their stop in Aberdeen, Balmoral Castle brought by Prince Albert for Queen Victoria in 1853 and the home of royalty since then.
As I said earlier there is a lot more to Scotland than bagpipes, Loch Ness and men in skirts one only has to set out for adventure to discover this beautiful land. Therefore, if you are truly ready for adventure head away from the cities and set out for the mountains known as the Scottish Highlands here you can find legends of Scottish mountain men and freedom fighters that resisted English rule until the very last man. From the major highland city of Inverness, one can visit Loch Ness and places like Culloden Moor where Bonnie Prince Charlie were defeated. The highlands also have Great Britain's highest mountain, Ben Nevis. Still asking yourself what you can do in Scotland maybe you should be asking what couldn't I do in Scotland.
Photo by Shadowgate on flickr, text by Stephanie Sears